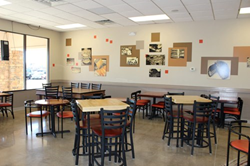 The owner needed sturdy, durable bar stools that look great, but he didn't want to spend a lot of money.
Loveland, CO (PRWEB) March 26, 2014
Leading commercial furniture distributor, Restaurant Furniture.net recently teamed up Donut Haus, in Loveland, Colorado by supplying them with new commercial bar stools to upgrade the seating in their donut shop.
Donut Haus began more than three decades ago in Estes Park, where German baker Dieter d'Alquen started making donuts in a little old building that had been a gas station. They became famous for baking the fresh, light delicious donuts.
In 2003, Lois and Mary Ann opened Donut Haus in Loveland. They had a lot of specialized equipment: four hands, one rolling pin, a big mixer and a fryer. Donut Haus is located in Orchards Center, right across the intersection from the old location, just east of King-Soopers and Hallmark. There's lots of seating, plenty of parking, expanded hours, and more good stuff to eat and drink. They have Wi-Fi and a cozy corner with a couch and a fireplace. They serve everything from donuts to desserts, pies to breakfast burritos, chocolates to cakes and coffee.
The owner of Donut Haus needed high quality commercial seating that would look great and be able to withstand the high traffic that the bar experiences on a daily basis. "The owner needed sturdy, durable bar stools that look great, but he didn't want to spend a lot of money," explained David M. He turned to Restaurant Furniture.net because of their reputation for premium quality and strong built furniture at affordable prices. Restaurant Furniture.net supplied Donut Haus with high quality bar stools and tables at competitive prices that fit well within his budget.
The owner decided to go with Ladder Back Metal Bar Stools with black frames. Customers can also choose a padded seat or a solid wood seat. The padded seat is made in the USA and can be upholstered in any material. Wood seats are available in 6 different finishes. The frame is available in black, copper vein, silver vein, gold vein or gold. The bar stools are currently on sale for $51. A matching Ladder Back Chair is also available is on sale for $34.50.
"The Ladder Back Bar Stool is the best-selling bar stool in America," according to David. "They are versatile enough to blend in with any décor, and the strong metal frame provides the durability that businesses need to withstand heavy traffic."
Browse Restaurant Furniture.net's full selection of commercial grade chairs, bar stools, table tops, table bases, booths and patio furniture at http://www.restaurantfurniture.net or talk to a customer service representative at (888) 409-1115.
Donut Haus is located at 174 E. 29 St. in Loveland, CO. They can be contacted at: (970) 278-1464.