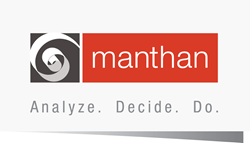 London (PRWEB UK) 27 March 2014
Manthan Systems, the global leader in analytics solutions for Retail and Consumer Product industries, is pleased to announce that it will be hosting a speaking session titled 'Data-driven personalization. Data-driven engagement' at the 2nd Annual Analytics, Insight and Smart Data Retail Summit, April 9 – 10, 2014, in London.
The session will take place on Wednesday, April 9th, 2:20- 3:00 PM and will be hosted by Anand Sri Ganesh, Senior Vice President & Business Head, Manthan. In this session Anand will explore how retailers of varying segments and sizes can use customer insights to drive engagement from a process-driven, IT, and marketing perspective. Attendees will learn customer engagement strategies across the retail marketing maturity continuum regardless of their level of sophistication in collecting and using customer data.
"Consumers are constantly talking to each other and sharing their preferences and shopping experiences amongst many others. Today's retail marketer is struggling to find ways to be a part of consumer's conversations. His conventional weapons of couponing, markdowns, in-store marketing, and advertising are no longer relevant," said Anand Sri Ganesh, Senior Vice President & Business Head, Manthan. "We explore how leadings retailers globally are using analytics to be relevant to their shopper, and drive loyalty."
Along with the speaking session Manthan will also showcase its ARC solutions for Customer Analytics. These solutions provide a complete lifecycle marketing and campaign optimization functionality for retailers, from data collection and advanced analytics through personalized promotions, execution and delivery. To learn more about ARC Customer Analytics, please visit http://www.manthansystems.com/ca/.
To schedule an appointment at the summit, please click here or you can mail us at online.enquiries(at)manthansystems(dot)com.