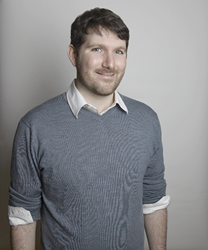 Portland, Maine (PRWEB) March 26, 2014
The 7th Annual Paul D. Merrill Business Ethics Lecture, hosted by the University of New England's Department of Business, will feature Eli Pariser, Upworthy co-founder and author of "The Filter Bubble: What the Internet is Hiding From You" – a New York Times bestseller. His lecture will focus on "Mission Driven Innovation: Can Technology Change the World?" and will be held on Friday, April 4, 2014 at 4 p.m. in the Ludcke Auditorium on the Portland Campus. A reception will be held at the UNE Art Gallery immediately following the lecture. The event is free and open to the public.
Pariser's book is the subject of a TED talk viewed more than two million times and called one of the top talks of the year by TED curator Chris Anderson. An online organizer, he is co-founder of Upworthy, a new startup focused on making content that matters go viral. During his time at MoveOn.org, from 2001 to 2008, the organization grew by ten-fold and collected nearly $120,000,000 in small donations.
Pariser also helped start Avaaz.org, a global online movement with over 24 million members in every country on earth and has served on the boards of the Open Society Foundations' U.S. Programs, the New Organizing Institute, Avaaz, MoveOn, Access, and a number of other organizations. Pariser was raised in Lincolnville, Maine, and attended Bard College at Simon's Rock. He now lives in Fort Greene in Brooklyn, NY.
The lecture series honors the late Paul D. (P.D.) Merrill, a Portland-area business leader and longtime UNE trustee, supporter and friend. The annual event creates an opportunity for future business leaders from UNE and the broader community to learn about and reflect upon the important role that ethical considerations play in our daily choices, and the impact these choices have on our communities. For more information, go to http://www.une.edu.
###