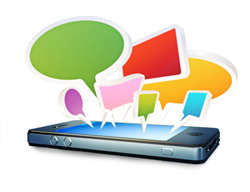 (PRWEB) March 27, 2014
With the recent purchase of Whatsapp by Facebook for $19 Billion as reported by Forbes on March 24th, 2014, Tellwut conducted an online survey determining that 45% feel the Mobile Messenger App market is saturated, 29% believe there is more room for competition and 25% think the existing top ranked applications are too similar. The survey further revealed that 48% still rely on standard text messaging (SMS), while 21% use Facebook Messenger as their incumbent messenger, 8% rely on Whatsapp, 8% use Skype, 5% use Blackberry Messenger and 4% use Snapchat.
How does this study speak to the mobile marketplace? When addressing the Whatsapp valuation, 30% of Tellwut's voter panel think that the $19 Billion price tag is appropriate, 37% believe that other key players can dominate the market and 33% feel that Whatsapp is overvalued. Though only time will tell if the price paid for Whatsapp was reasonable, Tellwutters gave their prediction on who will dominate the mobile messenger application market in the future. 29% of Tellwut's voter panel believes that Facebook's messenger will lead the mobile marketplace, followed by Skype at 22%, and Whatsapp ranking 3rd at 17%. One can expect the players in Mobile text messaging application arena to continue to battle it out for market share, while users pick their favorites based on usability, speed, pricing of data and privacy.
Tellwut is a North American online forum of individuals dedicated to expressing their opinions through online surveys based upon a wide variety of topics in exchange for rewards and the Tellwut community experience. The Tellwut community and proprietary online survey and reward software application provide a platform for organizations to send surveys to their stakeholders or to crowdsource and conduct online market research through the use of the Tellwut survey platform and the Tellwut Community; thus allowing businesses a clearer understanding and insight into their products or services, customer sentiment and potential business opportunities.