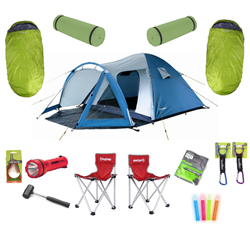 Depending on budget, customers can choose from Basic, Standard or Deluxe Festival Packages containing all the items needed to throw into the boot and head off to watch their favourite bands at a festival this Summer.
(PRWEB UK) 27 March 2014
Music Festivals have come a long way since Michael Eavis charged £1 each to a couple of thousand hippies to get into the very first Pilton Pop, Blues & Folk Festival on Worthy Farm in 1970 (later to be known as Glastonbury Festival). He even threw in free milk for everyone.
Back then at the very birth of the music festival it was a very more relaxed affair. Visitors would pay an affordable, or no entrance fee, pitch a tent, chill out and watch a few bands. Camping equipment would have pretty much consisted of a tent, perhaps a sleeping bag and maybe a camping stove and some pots and pans, or for many, just the clothes they were wearing and a smile.
For many these days, the world of camping has been thrust in their faces in the form of a festival. And unless campers have been gently dipped into the shallow end with a family camping trip with parents, festival camping can be a high dive into the deep end. Once they have the bug though, most festival goers can't wait for the Summer to come back around, dig the tent and the self-inflating mattress out from the loft, and perhaps just add to their stash of camping equipment a little bit to make the music festival experience a bit more comfortable each year.
In these very modern, increasingly on-line times that we live in, a lot of festival virgins may not have the experience or knowledge of where to begin when preparing what is needed for their festival trip. And in today's stressful times, many consumers prefer a one stop shop solution. World of Camping have thought about this and tried to make it as quick and easy as possible for their customers by putting together 3 superb Festival Packages. Depending on budget, customers can choose from Basic, Standard or Deluxe Festival Packages containing all the items needed to throw into the boot and head off to watch The Prodigy, Queens of The Stone Age, Arcade Fire, Dolly parton, or whoever else may tickle their fancy from this year's truly exciting list of Festival headliners.
Although many would love to hark back to more simple times, many of today's music festivals bear little resemblance to the hippy gatherings of the 1970's. Not because of the audience size, some early festivals had massive attendances ( Isle of Wight 1970 had an estimated attendance of between 300,000 and 600,000!), the organisation of these events was much more relaxed, and pretty much impossible to police or fence off sufficiently to check tickets, hence many early festivals ended up being free, even if they didn't start off that way.
As the decades have progressed and Music Festivals have gradually transformed from farms with a makeshift stage, a soup kitchen and a free glass of milk into the huge corporate behemoths they are today with every kind of food imaginable on sale, bars aplenty, and countless stalls and shops selling everything needed to make the festival more memorable. The modern consumer is much more demanding. As well as the obligatory festival T-Shirt, camping stalls will gladly sell you an overpriced sleeping bag to replace your mud drenched beer soaked one that had to be binned this morning, or a pop up tent to replace the one a drunken festival goer put his foot through on the way back from Metallica. Don't get caught out... take an old, spare tent and a couple of extra sleeping bags, stick them in the boot. Even if they don't get used, its peace of mind, and a forgetful friend may well end up thanking you.
World of Camping's advice is for a fun, worry free festival, be prepared. Clay Cowie, World of Camping Director commented: "These days if you stand by the entrance of a festival on day one you will see merry attendees laden under with kit, weighed down by rucksacks, and pulling trolleys packed with camping equipment. Yes, it is possible to take too much stuff, don't pack too many changes of clothes, most of them will probably remain in your bag as you settle into your festival uniform for the weekend. But In addition to a tent and a sleeping bag, once you've trekked for a couple of miles and finally pitched your tent, make sure you at least have a nice camping chair to kick back and relax in with your first festival cider, after you've put your tent up that is.
"First of all, remember to take the basics, a wind up lantern for the tent, a torch, and a headlamp are worth their weight in gold in the middle of the night when nature calls and the toilet block is half a mile away. Having said that, while It's difficult for most people to 'glamp' at a festival, many customers can't face it without some home comforts. A lot of people now choose to chip in together for a toilet tent, portable toilet and some toilet chemicals and have private facilities next to the tent, but not too close of course. This year, to make life easy for customers World of Camping have put together a few Festival Packages to suit all budgets, including some best-selling essential festival products enabling customers to save some money when buying their kit all at once."
At a 70's music festival for many even a camera would have been luxury item. The event would live on mainly through word of mouth with tales of festival adventures fondly regaled to friends, occasionally backed up by a few discoloured prints received through the post a few weeks later. Today practically everyone is armed with a phone or multimedia device to make calls, take photos, videos, and basically document the whole festival and send photos and videos to jealous friends. Batteries will need a charge several times over the weekend. In recent years stalls have popped up at most festivals offering the service to charge phones for anything up to a tenner a go. Invest in a solar charger, it saves a lot of hassle, and you'll make lots of friends.
"The most important piece of festival equipment for most is a pair of wellies, a good waterproof jacket, and a top tip from those who have learned the hard way is to take a Dry Bag. In the morning, fill the dry bag with clean clothes, sleeping bag, everything that can be squeezed in, then if the worst happens, the tent leaks, someone leaves the door open, whatever, there will still be somewhere dry to sleep and a fresh, dry kit to change into....once the puddles have meen mopped up that is! Oh, and if it's an old tent, take some waterproof spray , or re-proof it in the back garden before setting off, that stuff works wonders."
Nowadays, there are literally hundreds of music festivals in the UK each year, as well as the big ones, there are countless smaller ones to suit all tastes and genres. Some geared towards families, some not, some just for the kids, some for the more mature, most aimed at all ages, and all aimed at having a good time.
2014 sees some awesome festival line ups. Metallica, The Prodigy and Iron Maiden will be thrilling Sonisphere crowds. Glastonbury has its usual mixed bag, showcasing acts as diverse as The Arcade Fire, Black Keys, Jurassic 5 and Dolly Parton. American Heavy Rock masters, Queens Of The Stone Age are joined by their British protégés Arctic Monkeys at Reading and Leeds. It's not wrong to dance through the night to Pete Tong and Deadmau5 at Creamfields, and Download has a great mix of new and old Metal with Avenged Sevenfold and Bring Me The Horizon sharing the bill with Aerosmith , Status Quo and The Offspring, There's a festival out there for everyone.
World of Camping are an online camping retailer based in Redruth, Cornwall, offering one of the best ranges of camping equipment on the web.