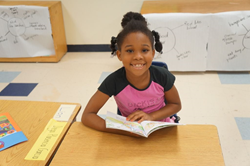 If a child can't read by third grade, they are 13 times more likely to drop out.
Charlotte, NC (PRWEB) March 26, 2014
Reading proficiently by the end of the third grade is a make-or-break benchmark in a child's educational development. However, more than half of N.C. third grade students failed end-of-grade reading tests in 2013. On Tuesday, April 1 at 6:00 p.m. at Friendship Missionary Baptist Church, the YMCA of Greater Charlotte, MeckEd, Teach For America, Belk Foundation and United Way of Central Carolinas will host an important conversation called "3rd Grade Reading: We Can Do More."
The nonprofits hosted the first community conversation about this topic before the start of the current school year. Moderated by WFAE's Mike Collins, the discussion featured area superintendents forecasting the impact of the N.C. Read to Achieve program. Read to Achieve, part of the Excellent Public Schools Act which applied to all N.C. public schools for the 2013-14 school year, is directly tied to a student's ability to read by third grade.
As we near the end of the academic year, schools and districts are preparing students to meet end-of-grade benchmarks and making plans to serve those students who do not. The "3rd Grade Reading: We Can Do More" conversation will be moderated by NBC Charlotte's Dave Wagner and will feature Ralph Smith, Managing Director of Campaign for Grade-Level Reading and Senior Vice President of the Annie E. Casey Foundation. The Campaign's work is focused on helping communities and policymakers promote school readiness and quality teaching, tackle chronic absence, and improve summer learning, as well as engage parents as their children's first teachers. Smith will explain why third grade is a critical year in a student's educational development and what other cities across the country are doing to make sure all students learn to read by third grade.
"Studies show that if a child can't read by third grade, they are 13 times more likely to drop out," says Amanda Wilkinson of Y Readers, a successful literacy program of the YMCA of Greater Charlotte that is now a delivered in 40 cities. "There are a number of factors that affect a child's success in 3rd grade. The Y and our partners hope that this conversation can highlight solutions in which we can all take part to change the current trajectory."
The event will also include a group of panelists to discuss the current landscape of third grade reading within our schools and what is happening at the state level to support public education: N.C. Senators Joel Ford (D) and Jeff Tarte (R) as well as Superintendent of Mooresville Graded Schools Mark Edwards, Hidden Valley Elementary Principal Tisha Green and Cindy Motta, a current third grade teacher at Devonshire Elementary.
"3rd Grade Reading: We Can Do More" is open to the public and free. Individuals can register to attend online. http://www.eventbrite.com/e/3rd-grade-reading-we-can-do-more-tickets-10805691113.
About the YMCA of Greater Charlotte
The Y is one of the nation's leading nonprofits strengthening communities through youth development, healthy living and social responsibility. The YMCA of Greater Charlotte, comprised of 19 Y branches and two resident camps, engages approximately 274,000 men, women and children – regardless of age, income or background – to nurture the potential of children and teens, improve the nation's health and well-being, and provide opportunities to give back and support neighbors. Deeply rooted in the community for 140 years, the YMCA of Greater Charlotte has the long-standing relationships and physical presence not just to promise, but to deliver, lasting personal and social change. ymcacharlotte.org