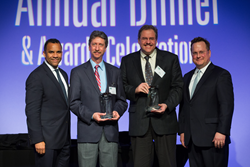 I am humbled and honored to have received this prestigious award, and more importantly, to be part of the scientific team that has developed this innovative T Cell Therapy treatment
Philadelphia, Pa. (PRWEB) March 27, 2014
The Children's Hospital of Philadelphia has received Pennsylvania Bio's Patient Impact Award along with the University of Pennsylvania for developing an innovative treatment called engineered T cell therapy. Pennsylvania Bio presented the Award at its Annual Dinner and Awards Celebration on March 12. Engineered T cell therapy, also called immunotherapy, reprograms a patient's immune system to seek and destroy cancer cells, and has shown promising results for patients with leukemia.
Pennsylvania Bio's Patient Impact Award recognizes a medicine, therapy, device or organization that has made a significant contribution to the quality of health care or length of life of patients in 2013. Eligible organizations include medical device, diagnostic, pharmaceutical, biotechnology companies or academic institutions with significant operations in Pennsylvania.
"I am humbled and honored to have received this prestigious award, and more importantly, to be part of the scientific team that has developed this innovative T cell therapy treatment," said Stephan Grupp, M.D., Ph.D., director of Translational Research in the Center for Childhood Cancer Research at The Children's Hospital of Philadelphia, and Professor of Pediatrics in the Perelman School of Medicine at the University of Pennsylvania. "In the field of cancer, we've come as far as we can using standard treatments such as chemotherapy and radiation. T cell therapy offers new hope for patients with aggressive leukemia, and we are working hard to harness this novel therapy to cure other types of cancer."
The team's most current results, presented at the American Society of Hematology Annual Meeting in December 2013, are that nearly 90 percent of children and adults— 24 out of 27 patients— with a highly aggressive form of acute lymphoblastic leukemia (ALL) showed complete responses of cancer after receiving T cell therapy.
A relatively new approach in cancer treatment, this type of immunotherapy relies on T cells, the workhorses of the body's immune system. When cells become cancerous in specific leukemias such as ALL, and are able to evade regular T cell surveillance, the scientists reprogram T cells to function as specialized cancer hunters. Researchers first extract a patient's own T cells and genetically modify them. Using bioengineering techniques, they reprogram each patient's T cells into chimeric antigen receptor cells, custom-designed to bind to a protein called CD19 that exists only on the surface of B cells. Next, the engineered cells are returned to the patient's body, where they proliferate and then eliminate B cells. Moreover, they persist in the circulation, helping to guard against the cancer's recurrence.
The trials, a collaboration between The Children's Hospital of Philadelphia and the University of Pennsylvania, are overseen by Carl H. June, M.D. as trial Sponsor, the Richard W. Vague Professor in Immunotherapy in the department of Pathology and Laboratory Medicine and director of Translational Research in Penn's Abramson Cancer Center.
###
About the Cancer Center at The Children's Hospital of Philadelphia: The Children's Hospital of Philadelphia has one of the largest pediatric cancer programs in the United States, which has been top ranked by U.S. News & World Report and Parents Magazine. Its large basic and clinical research programs are particularly strong in pediatric neuro-oncology, neuroblastoma, leukemia and lymphoma, and sarcomas. Of all pediatric institutions, Children's Hospital enrolls the most patients in national clinical trials, working in close collaboration with national organizations such as the Children's Oncology Group. Physicians at Children's Hospital have had pioneering roles in developing international standards for diagnosing and treating neuroblastoma, and in developing programs for survivors of childhood cancer. For more information, visit http://www.chop.edu/cancer.
About The Children's Hospital of Philadelphia: The Children's Hospital of Philadelphia was founded in 1855 as the nation's first pediatric hospital. Through its long-standing commitment to providing exceptional patient care, training new generations of pediatric healthcare professionals and pioneering major research initiatives, Children's Hospital has fostered many discoveries that have benefited children worldwide. Its pediatric research program receives the highest amount of National Institutes of Health funding among all U.S. children's hospitals. In addition, its unique family-centered care and public service programs have brought the 535-bed hospital recognition as a leading advocate for children and adolescents. For more information, visit http://www.chop.edu.