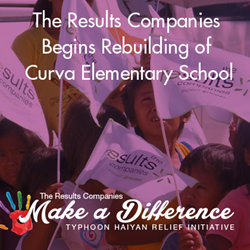 We are so grateful to everyone at The Results Companies. Your company not only discovered us and our situation, but you gave us hope through the unconditioned help that you're giving us in rebuilding our school and community
Fort Lauderdale, FL (PRWEB) March 31, 2014
The Results Companies, a leading global provider of a full range of Customer Experience Management services, and its Philippine relief partners recently participated in a demolition ceremony at Curva Elementary School. On March 1, 2014, Aboltz Foundation, Harvard Business Club and Colliers Real Estate joined The Results Companies at a historic event marking the reconstruction of a school and community tragically impacted by Typhoon Haiyan. The ceremony was followed by a student outreach program that included lunch and distribution of 4,200 notebooks.
A small town on northern Cebu Island with a population of approximately 60,000 people, Medellin does not receive the media attention of Tacloban and other regionally impacted areas. The Results Companies, recognizing the town's immediate need, quickly contacted the local government at the onset of Typhoon Haiyan. Upon hearing that 95% of the town's structures were destroyed, a team of volunteers was immediately mobilized to purchase supplies and materials. The team traveled to evacuation camps where they distributed essential care items and assembled 300 shelters, providing haven to over 3,000 people. On November 22, 2013, The Results Companies partnered with Habitat for Humanity Philippines and launched a secondary relief effort focusing on the rebuilding of Curva Elementary School. The school was nearly destroyed leaving 550 students from kindergarten to grade 6 in tents as temporary classrooms. The Results Companies' Typhoon Haiyan Relief Initiative encouraged employees, customers and families to donate money through an online fundraising site. In total, the companies' contact centers across the world raised over $77,000 USD.
"Our thoughts and hearts continue to be with the people of the Philippines and all those impacted by this tragic event," stated Alec Brecker, President and CEO, The Results Companies. "We are humbled to be able to make a difference and are doing everything we can as a global community to assist those in need. The Results Companies remains committed to the people of the Philippines and helping them rebuild in the wake of this catastrophe."
"We are so grateful to everyone at The Results Companies. Your company not only discovered us and our situation, but you gave us hope through the unconditioned help that you're giving us in rebuilding our school and community," said Mrs. Flores Arriesgado, a teacher at Curva Elementary School.
About The Results Companies
For more than 20 years, The Results Companies has served as a premier global customer management and business process outsourcing provider for Fortune 500 companies and uniquely designed, built and operated award-winning call centers that have set the standard for innovative customer-focused contact solutions. We offer a full range of services that include customer service, acquisition, enrollment, retention, membership support services and transaction processing to outbound sales and retention campaigns. Entrusted with over 40,000,000 relationships a year, our success and proven ability to respond to our Partner's growth has enabled us to expand our global footprint. With over 8,500 employees in 15 locations in the United States, Philippines and Latin America, The Results Companies' expertise extends beyond call centers. We're experts in representatives, analytical technologies, brand fulfillment and creating strategic advantages for our Partners.