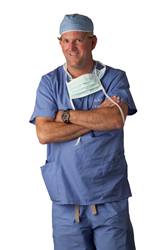 "Practice preventative back care to help avoid long term back problems."
Palm Beach Gardens, Florida (PRWEB) March 27, 2014
So the saying goes: Practice something daily for 3 weeks and it becomes a routine habit for your body. Why not consider some "spring cleaning" in the habits department for better back health?
Dr. Scott Katzman, spine surgeon at Orthopedic and Laser Spine Surgery, encourages preventative back care to help avoid long term back problems. Here are 5 easy ways to turn the bad to good that will not only have a positive long term effect on your neck and back but may also remedy those current aches:
1. Slouching and hunching while sitting is a common habit that so many unknowingly fall into as they work through desk work. Create a good habit by sitting up straight, pulling your tummy in, and rolling your shoulders back. Set a timer on your cell phone to remind you to check your posture until it becomes more of a routine. Standing up and walking around at least once an hour during extended sitting is also highly recommended.
2. Not providing the spine with adequate muscle support is like setting up your tomato plants with no stakes hoping it can stand on its own through any weather and a multitude of tomatoes. The proactive habit change is core muscle exercises. There are many different kinds of core exercises. Sit ups, leg lifting exercises, swimming or riding your bike 20 minutes 4-5 days a week are a few examples. Strengthening stomach and lower back muscles have been proven to alleviate back pain.
3. Lifting items with your back is opening up yourself for injury. Don't fall victim to this habit. The preventative habit is to lift with your knees and legs, keeping the spine straight. Hold the object close to the center of your body. Don't hesitate to ask for help with any objects that are heavy enough to make you think twice about lifting them.
4. Walking with your head down, your upper back or shoulders in a hunched position or leading your next steps with a foot drag is a bad habit and a bad position for the back to be in. Change this to a good habit. Walk tall and confident, like you have somewhere important to go. Put in a full step stride and keep your chin pointed forward. And as an added perk, studies have shown that walking in a confident manner implies a certain measure of success to others.
5. Twisting to reach for something is not the best choice and is often the culprit for sudden unexpected back spasms and pain if this is a common practice. Intercept this plan with a good habit. Simply turn to face the object you need and then reach for it. If you feel you are over reaching for an item, move closer first to prevent an accident or pulled muscle.
Dr. Katzman is a Board Certified Orthopedic Surgeon who performs procedures of the spine through his family of services at Orthopedic Laser and Spine Surgery, Center for Artificial Disc Replacement and Stem Cell Institute. Dr. Katzman specializes in minimally invasive spine surgery and laser surgery. He has advanced and mastered his skills in endoscopic and minimally invasive laser spine surgery, disc replacements, stem cell therapy and many other techniques since he began his medical career in 1989.