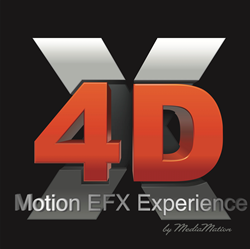 "X4D technology is a new form of traditional cinema entertainment that couples an extreme experience with value for our guests. We're proud to be a leader in our industry and offer this new, cutting edge technology," says Neil Pearlmutter, V.P. of SREG.
Las Vegas, Nevada (PRWEB) March 27, 2014
MediaMation, the leading supplier of 4D/5D motion effects theaters will be installing the first of several new X4D motion EFX theaters for US cinema chain Santa Rosa Entertainment and City Cinema in Oman to open summer, 2014. Santa Rosa Entertainment has over 100 state-of-the-art digital screens throughout Northern and Southern California.
"X4D technology is a new form of traditional cinema entertainment that couples an extreme experience with value for our guests. We're proud to be a leader in our industry and offer this new, cutting edge technology," says Neil Pearlmutter, Vice President of Santa Rosa Entertainment group.
The first theater that will house this technology will be the Plaza Cinema 14 in Oxnard, CA. "We are very excited about our first US based X4D cinema theater. As a US based manufacturer, we wanted to find a partner whose theaters represented a very 'middle America' and younger demographic. We feel the Oxnard location is a perfect fit for us and the Santa Rosa group," states Dan Jamele, Vice President/CTO of MediaMation.
City Cinema belonging to Oman Arab Cinema Company LLC is the largest cinema chain in Oman. With over 21 screens in Oman and besides with the planned addition of 10 screens during 2014, the company is upbeat about introducing the latest experience for the audience. Towards this end, the company has identified who will supply the cinema house with full 4D/5D turnkey Motion EFX theaters.
"We researched all the 4D/5D technology providers worldwide and we found business model and technology of MediaMation most suited to our needs. Being the first cinema in Oman to have 4D/5D, it will be a big plus for our theaters and our audiences' overall experience," states P. Chandrasekr, Group General Manager of Jawad Sultan Group, which owns the cinema business.
"We are pleased to add City Cinema to our MediaMation international family of cinemas along with Cinemex Cinemas in Mexico and Cine Colombia in Colombia. We are looking forward to working with the premiere exhibitor in Oman for their 4D expansion which gives us more flexibility and brings the experience to more people in this growing market." says Alison Jamele, President of MediaMaiton, Inc.
These state-of-the-art theaters will consist of 100 seats and will be powered by MediaMation's distinctive patented technology using air pneumatics to control the motion of the seats to the action on the screen.
The X4D Motion EFX Experience enhances the film with motion and effects. MediaMation's precisely synchronized motion compliments the on screen action to draw the viewer into the movie to provide an unparalleled movie going experience. Additionally, X4D theaters incorporates effects such as seat poppers, pokers, air and water blasts, leg and neck ticklers, wind, strobe, fog and scent to create a totally immersive movie viewing experience.
About Santa Rosa Entertainment Group – In 1972, Daniel F. Tocchini first established the theatre company that later became Santa Rosa Entertainment Group (SREG). Santa Rosa Entertainment Group initiated an aggressive plan to build a circuit of premier multiplex theatre facilities including the Rockridge Cinemas in Oakland and the Lakeside Cinemas in Santa Rosa. SREG, a family-run company that operates, designs, builds and renovates theatres as well as "buys and books" film, manages concessions and performs other administrative functions for a growing network of motion picture theatres and independent exhibitors. SREG operates many state-of-the-art megaplexes in California including: the Roxy Stadium 14, 3rd Street Cinemas 6, and Airport Stadium 12 in Santa Rosa; the Sierra Vista Cinemas 16 in Clovis; the Lodi Stadium 12 in Lodi; the Plaza Cinemas 14 in Oxnard; the Roxy Stadium 11 in Camarillo. These remarkable state of the art complexes feature large snack bars as well as the ultimate in picture & digital sound presentations and some giant auditoriums with wall-to-wall screens.
About City Cinema – The cinemas belong to Oman Arab Cinema Company which was set up more than 4 decades ago in Sultanate of Oman and is a premiere exhibition company. Today, all its cinema locations are known under the well-known name: CITY CINEMA. The company has 21 screens spread over 7 different locations in the Sultanate and plans are afoot to add 10 more screens before end of 2014 in Muscat, Capital of Sultanate of Oman.
About MediaMation, Inc. - Founded in 1991, MMI has installed X4D® Motion EFX seats and turnkey 4D/5D theaters throughout the world. Most recently, installations have included 250+ seats for Cinemex's X4D® Cinema Theaters installed/installing throughout Mexico in 15 of their cineplexes. Cinemex is the 6th largest Cinema chain in the world and was just recognized as the "Best International Cinema" at the ShowEast Conference 2013. Longstanding MMI clients such as "Ripley's Believe It or Not" Moving 4D Theaters in San Antonio, Texas and Baltimore as well as Legoland Discovery Centers in Toronto, Chicago and other locations respectively, continue to use MMI to supply them with high quality 4D immersive theaters. MediaMation's X4D® Motion EFX Theaters are installed in over 34 countries, such as multiple locations of the Museo De Cera's Viaje Fantastico Theaters in Mexico and the Royal Saudi Air Force Museum, to name a few.
###