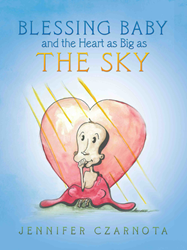 Want to Help Remind Them That They Are Not Second-hand Children, But Are Loved
Green Bay, WI (PRWEB) March 31, 2014
According to UNICEF, across the world there are an estimated 17.9 million orphans that have lost both parents. American orphans will spend three years on average in foster homes waiting for adoption.
When these children are adopted, feelings of being an outsider to the family are all too common.
Jennifer Czarnota wrote her children's book for her own adopted son. "Blessing Baby and the Heart as Big as the Sky" is the result of Czarnota's difficulty in finding children's literature that helps adopted children deal with these feelings. It also helps the new addition to the family know that they are loved and accepted.
"Too often, our society unintentionally sends the wrong message to adopted children," Czarnota said. "We say 'blood is thicker than water' and they wonder if their family connections are strong enough."
The book follows Blessing Baby's journey through his adoption into the arms of his new loving family. Through the efforts of many who love and care for him, Blessing Baby finds acceptance in his new home.
"The mission of my book is to ensure that every adopted child knows that their life is a blessing," Czarnota said. "I want to help remind them that they are not second-hand children, but are loved."
For more information, visit http://www.facebook.com/blessingbabybook.
"Blessing Baby and the Heart as Big as the Sky"
By Jennifer Czarnota
ISBN: 978-1-4804-0238-4
Available in softcover, hardcover, e-book.
Available on Amazon, Barnes & Noble and ArchwayPublishing.
About the author
Jennifer Czarnota is a pastor of St. Johns and Christ Lutheran Parish in Oshkosh, Wis. She wrote this book as a response to the lack of children's literature that is written with adopted children as the audience.
For review copies or interview requests, contact:
Matthew VanScoik | mvanscoik(at)bohlsengroup(dot)com | 317.602.7137
(When requesting a review copy, please provide street address.)