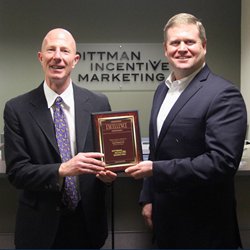 Being honored as Supplier of the Year by Dittman was always a special recognition that my Dad was very proud of receiving.
New Brunswick, NJ (PRWEB) March 31, 2014
Dittman Incentive Marketing is pleased to announce that their Supplier of the Year award for 2013 has been presented to Hoffman & Edgette, Inc., a Manufacturer's Representative covering Metro New York and New Jersey offering top brand name products. The incentive industry is founded on exceeding the expectations of the client, and Hoffman & Edgette, Inc. have demonstrated their commitment to ensuring Dittman's reward winners receive the best service possible.
In addition to providing top-class customer service as a Manufacturer's Representative, the company helped to introduce the "Special Deals" category on the Dittman Rewards Mall. The company has consistently offered new brands and products ahead of the latest trends allowing Dittman to provide the best products and incentive services to their clients.
"The value of an online Rewards Mall to our clients is largely driven by the range of merchandise, and the ability to offer the latest products," said Brian Carr, Director of Individual Awards. "We work with a number of top-class suppliers to provide our rewards options, and Tom Edgette and his team exemplify the high levels of customer service and innovation that we look for in our partners."
Tom Edgette accepted this award on behalf of Hoffman & Edgette, Inc. He is the son of the company co-founder, John Edgette, who also received the Supplier of the Year award from Dittman in 1984.
Remembering his father's involvement with the partnership, Tom said, "Being honored as Supplier of the Year by Dittman was always a special recognition that my Dad was very proud of receiving. Now, 30 years later, it's an honor to receive the same award." The TotalPRO® Rewards Mall offers participants a choice of thousands of items including gift cards, travel packages, and event tickets. This is all made possible to the clients by the support from top Manufacture Representatives like Hoffman & Edgette, Inc.
About Dittman Incentive Marketing
For more than 35 years, Dittman Incentive Marketing has been an award-winning, quality leader in providing incentives, recognition, and rewards programs to help companies realize immediate ROI in motivating sales people, employees, channel partners, customers, and consumers. Dittman's signature products and services include: TotalPRO® (Performance Recognition Online) — an incentive, recognition and rewards online software solution (SaaS) - and Deluxe Group Incentive Travel. For more information, visit http://www.dittmanincentives.com.