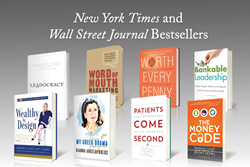 I chose Greenleaf Book Group because of its ability to strategically place my book, Deep Dive, in premium positions within key retailers across the U.S. —Rich Horwath, CEO of the Strategic Thinking Institute
Austin, TX (PRWEB) March 26, 2014
Consultants, thought leaders, executives and experts are always looking for ways to separate themselves from the pack. Today, more and more professionals are realizing that a book can be a powerful tool for building credibility and attracting new business opportunities.
Consultant Rich Horwath recognized the need for a book that would act as a roadmap to guide managers in elevating their focus from day-to-day tactical thinking to the big-picture insights of strategic thinking. But as Horwath found out, writing the book was one thing; getting it into the hands of potential clients and managers who could truly benefit from his knowledge and experience was another.
Horwath chose Greenleaf Book Group because of their ability to strategically place his book, "Deep Dive," in premium positions within key retailers across the U.S. In less than one year, Greenleaf Book Group helped Horwarth produce a finished book that generated its own revenue. Howarth's book increased his name recognition as the thought leader on the topic of strategic thinking and allowed him to raise his keynote speaking fees by 50 percent.
Greenleaf's unique hybrid publishing model combines the most powerful benefits of traditional publishing with all the perks of self-publishing—while eliminating the biggest downfalls of both. During an informative interview, Greenleaf CEO, Tanya Hall, can discuss the top reasons why a book should be part of your marketing plan:
-Increase clients and revenue
-Enhance credibility
-Establish a brand
-Create separation from competitors
Greenleaf Book Group was founded in 1997 by Clint Greenleaf while working above his parents' garage. After seven years of growth and hundreds of successful book launches, Greenleaf moved its headquarters to Austin, TX, where they have continued to grow and redefine the publishing industry for the past ten years. Today, Greenleaf has worked on over one thousand titles including multiple New York Times and Wall Street Journal bestsellers. Greenleaf's 36 full-time employees are critical to the company's continued growth because they bring the extensive experience and business perspective to guide clients through successful production, distribution and marketing.
Greenleaf has been included in the Inc. 500 list of fastest growing private companies and has received praise and awards from Forbes, Publishers Weekly, Publishing Trends, Independent Publisher and Book Business Magazine.
To learn more about Greenleaf Book Group, visit http://www.greenleafbookgroup.com.
From Consultant to Strategic Thought Leader – How one Greenleaf author used a book to educate clients, connect with prospects, and position himself as a strategic-thinking expert.
INTERVIEWS WITH GREENLEAF CEO, TANYA HALL, AVAILABLE UPON REQUEST