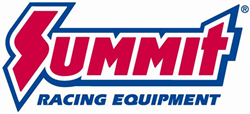 Tallmadge, OH (PRWEB) March 27, 2014
Motive Gear has been supplying parts for winning NHRA, IHRA, and NASCAR race teams for years; but Motive Gear also makes super-stout driveline and axle components for serious off-road Jeeps — all available at Summit Racing.
Motive Gear Ring and Pinion Sets are available in a wide range of ratios for many popular Jeep axles, including Dana, Chrysler, and AMC models. The superior-quality gear sets were born from race testing and cutting-edge manufacturing techniques to make them ready for the rigors of the trail.
Motive Gear also offers handy installation kits to complete a gear swap. Each installation kit includes the proper shims, hardware, and bearings for the specified axle model.
Running big tires or an aggressive lift can wreak havoc on stock axles. Motive Gear Ten Factory Axle Shafts are available for most Jeep front and rear axles, including several Dana models. Depending on the axle, the shafts are made from hardened steel and are direct-fit replacements for the stock units.
Trail driving demands no-compromise traction. As a result, Motive Gear offers near bulletproof Differential Carriers. They're available to fit many common axle types, along with a wide range of gear ratios. Motive Gear also has Differential Rebuild Kits, Shims, Crush Sleeves, and Spacers to ensure your Jeep's differential stays healthy.
See all Motive Gear products for Jeep at Summit Racing.
Summit Racing Equipment
http://www.SummitRacing.com
1-800-230-3030