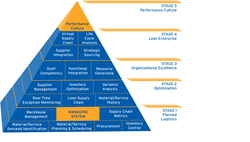 "Shell was struggling with issues that were holding them back. SAMI came in, studied what was going on, and found a lack of consistencies and a need to eliminate downtime and increase employee engagement."
Farmington, Conn (PRWEB) March 28, 2014
When the Houston-based conglomerate Shell Exploration & Production N.A. realized they needed to improve everything from production volume and safety levels to maintenance reliability and managerial effectiveness, they turned to a relatively niche group in Connecticut called SAMI.
"Small in size, perhaps, but gigantic in results," notes S. Bradley Peterson, founder and principal owner of SAMI, which is an acronym for Strategic Asset Management, Inc. Peterson has announced that Shell and several other large corporations, such as BG India, Constellation Power and Axiall (Formerly Georgia Gulf Corporation), have recorded significant and sustainable process improvements through a proprietary series of SAMI programs, tools and methodologies collectively called The Performance Culture.
Based on many years of research, application and assessment (SAMI was founded in 1996), The Performance Culture has proven to have a remarkable capacity to first identify obstructive issues and then implement sustainable improvements.
"Most of us might know Shell only by that iconic red-and-yellow logo at gas stations, but it is actually a group of energy and petrochemical companies in more than five dozen countries, and they use incredibly advanced technologies to accomplish their goals," Peterson explains. "But they were struggling with issues that were holding them back. SAMI came in, studied what was going on, and found a lack of consistencies and a need to eliminate downtime and increase employee engagement. We told them we'd like to spread The Performance Culture across the board. They gave us the okay, and when all was said and done their executives called it 'the most successful project at Shell ever.'"
Shell E&P's operating costs were reduced by 20%, manpower utilization improved by 54%, reactive workload was lowered by 46%, and annual production increased several times over.
"Our own SAMI leadership originally came from companies large and small in industries ranging from equipment manufacturing and atomic energy to aerospace and healthcare," Peterson explains. "We know that every company can use sustainable process improvements and we believe they should never be denied the same tools and methods used by the giants."
The specific path to Performance Culture varies for each company but typically includes organizational alignment initiatives, personnel development, efficiency enhancements, optimized cost structures, excellent return on investment and improved production volume. Proprietary tools include APEX™ behavioral and practices tracking software, and the SAMI Pyramid, which represents a complete solution for excellence in any industrial environment. Production, Maintenance, Supply Chain and Capital Management are fully addressed by the Pyramid's functional sides. The base—the Organizational Model—develops the necessary leadership, management and behavioral elements to support outstanding results.
For more information on The Performance Culture and SAMI's success, contact the company at 860-675-0439.
About SAMI:
SAMI was established to help national and international industrial organizations modify both functional processes and workforce behaviors in pursuit of sustainable performance improvements. SAMI's top-level consultants offer client firms unique new approaches that positively transform all levels of an organization so that they can reach and maintain new heights of success. The company is headquartered in the U.S. in Farmington, Conn, has offices in Europe, South America, India, Australia and the Middle East. On the web they can be found at http://www.samicorp.com.