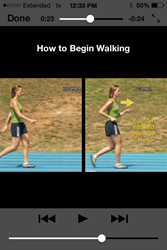 With video lessons and audio cues from Dreyer, the ChiWalking app makes it easy for users to move well so they can walk farther and faster with less effort.
Asheville, NC (PRWEB) March 27, 2014
ChiWalking is pleased to announce the release of its newest product, the ChiWalking® app for iPhone. ChiWalking, created by ChiRunning® founder Danny Dreyer, is extending its reach by going mobile, offering walkers their own "personal ChiWalking coach." This innovative app helps users get and stay active by improving their technique, making walking an effective way to reach their fitness goals while reducing aches and pains.
Studies show that 30 minutes of brisk walking five times a week can lower the risk of heart disease, help manage diabetes, combat depression, reduce stress, regulate weight, and much more (American Heart Association). The American Heart Association also states, "The simplest, positive change you can make to effectively improve your heart health is to start walking."
The ChiWalking technique, a powerful blend of T'ai Chi principles and walking, maximizes these benefits by helping users: build core strength to improve balance and reduce back pain; keep a steady pace to burn more calories; and reduce impact to joints and muscles through proper biomechanics. With video lessons and audio cues from Dreyer, the ChiWalking app makes it easy for users to move well so they can walk farther and faster with less effort.
This app is designed for current and aspiring fitness walkers of all ages and levels who want to energize their walking program to lose weight, get fit, or return to health after injury or illness. It is the ideal tool for individuals and group walking programs. ChiWalking App users will:

Watch video lessons on key elements of highly efficient, injury-free walking technique
Go for guided walks with audio reminders by ChiRunning & ChiWalking creator, Danny Dreyer
Customize their workouts by pre-selecting specific Chi Form Focus reminders
Maximize caloric burn by maintaining an aerobic cadence with the built-in metronome
Warm up and cool down safely with videos of Pre-Walk Body Looseners & Post-Walk Stretches
Track their progress with key stats: distance, elevation gain, route maps, pace, total time, and calorie burn
Advance their skills with 5 Upgrade Workouts: Strengthen Your Heart, Strengthen Your Core, Improve Your Balance, Reduce Stress, and Increase Your Energy
ChiWalking's mission is to help people of all ages and fitness levels get fit and feel great for a lifetime. Through this mindful approach to health and fitness, walking is easier, more enjoyable, and can help users improve their quality of life. ChiWalking is also taught through books, DVDs, training programs and workshops.
To receive a complimentary ChiWalking app or other products for review, please email [email protected]
About ChiWalking & ChiRunning
ChiRunning® and ChiWalking®, the mindful movement techniques created by Danny Dreyer and Katherine Dreyer, are brands that go beyond the popular book titles, ChiRunning® (2009), ChiWalking® (2006) and ChiMarathon (2012) (Simon & Schuster/Fireside). The ChiLiving offerings: books, DVDs, audio programs, training programs and workshops are infused with the movement principles of the ancient practice of T'ai Chi and its philosophy of moving from the core. ChiLiving supports groups and individuals to make healthier, long-term fitness choices. Learn more at http://www.chirunning.com.
Doctor Recommendations (available for interviews)
Frederick Hecht, MD, Professor of Medicine, UCSF has used the ChiWalking program in a five-year weight-loss study.
Podiatrist, Dr. Ray McClanahan, specializes in sports medicine and preventative foot care. ChiWalking and ChiRunning have been essential tools for injury prevention for Dr. Ray personally, and for his patients.
Rheumatologist, Dr. William Mullins, has found that exercise is critically important for the treatment of all types of arthritis and recommends Chi Walking to his patients. One patient, who suffered from severe knee arthritis, has postponed knee replacement surgery indefinitely by incorporating ChiWalking into every step he takes.