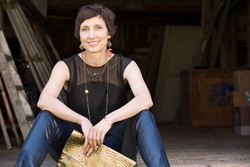 Boston, MA (PRWEB) March 30, 2014
The Boston Gift Show is one of the biggest regional wholesale gift shows and a source of gifts, home accents, souvenirs and handmade jewelry for retailers across New England. The 2014 Boston Gift Show was held at the Boston Convention & Exhibition Center from March 23rd - March 26th. Rayburn attend the show for the first time this year. "I was thrilled to have the opportunity to visit the Boston Gift Show this year, to network and meet new people," said Rayburn. "Attending this event allows me the chance to learn more about the trade so I can provide the best quality jewelry to my customers."
The typical buyer spends about 30 seconds in your booth. This means that if something doesn't catch their eye in the five seconds they spend walking by, they probably won't stop. To help draw traffic into your booth, get out your message across and make the show run smoothly, Jenne Rayburn suggests the following five tips.
1. Plan your booth design carefully.
Pare down your collections to your most popular items, and display those items beautifully and creatively. If you offer those items with different metals, finishes and stones, make sure you have time to make each of those options as they will show better and it will be easier to sell them to customers. Utilize the resources available from the show to create the best booth environment, including lighting, shelving and wallpaper. This is all perceived as your "brand identity" and should look polished and professional.
2. Spend time on the design of your booth signage and marketing materials.
Consider how you will present your brand, and the materials you need to create a consistent and professional presentation. This includes but is not limited to your business card, brochure, line sheet, stickers and the signage for your jewelry and the booth. Make your booth signs in advance and have them backed with a board. They will hang better and will look lovely and professional.
3. Stand up in your booth and greet customers.
Your confident, friendly smile and invitation to look at your jewelry is very important. Although tiring it is necessary to welcome a buyer who may be right around the corner. Make eye contact and use your sense of humor to draw people in. Ask them what they are looking for. Even if you do make a sale, customers should leave with your postcard and you should request their contact information.
4. Price your items thoughtfully.
Label each item with the wholesale prices, so when people pick up an item the price is right there. Price your goods at the wholesale level to allow double and triple keystone pricing for your buyers. Keep pricing simple so that retailers do not find pricing your items confusing.
5. Create organized and easy to use line sheets and order forms.
Put thought into designing uncomplicated and funtional line sheets and order forms so that you'll be able to write up an order quickly. Clear simple descriptions, with photos, will go a long way to making a sale, and getting repeat orders.
Have a great time!
Participating in a wholesale show is a great way to learn more about your customer and what sells. It takes a lot of hard work and energy to get to a wholesale trade show. Show off your hard work and accomplishments and enjoy the experience. You have done a great job, and you should feel good!
Visit Jenne Rayburn's collections http://www.jennerayburn.com. Visit Jenne Rayburn on Facebook http://www.facebook.com/Jenne.Rayburn.
About: Jenne Rayburn is a Boston-based jewelry/textile artist who also studied interior design and architecture, and her work explores the convergence of architecture, design, technique and identity. Balancing the demands of a career and a growing family, Jenne is a mother, wife and daughter who designs for herself and all the women in her life who want to feel uniquely beautiful and powerful. It is her hope that the wearers of her pieces will find joy in a delightful artistic statement, and also something that enhances their individuality and confidence. Her work is suitable for wedding jewelry and is carried in local galleries and online. Please visit http://www.jennerayburn.com for Jenne Rayburn's online store.
###