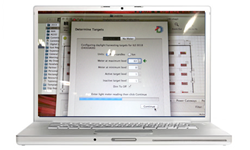 Energy Source pushes the envelope every bit as much as we do. - Russ BrillonCFO Leaktite Corporation
Providence, Rhode Island (PRWEB) April 16, 2014
In the face of increasing energy costs, most businesses are looking for creative ways to reduce energy consumption. For Leaktite Corporation, a leading manufacturer of industrial buckets, pails and other products, that meant partnering with Energy Source of Providence Rhode Island to find "outside the box" lighting strategies for their 80,000 square foot production facility in central Massachusetts.
Energy Source's solution: "LED Intelligent Lighting with Daylight Harvesting."
Daylight Harvesting is a specialized approach to lighting design that utilizes a combination of cutting edge photo-sensitive LED lighting fixtures with intelligent and sophisticated computer software to control and coordinate dimming in the presence of natural light. Daylight Harvesting can reduce energy consumption by an additional 20-30% beyond savings achieved by a standard lighting retrofit.
"I knew this solution would be a perfect fit for the Leaktite plant since the facility contained an array of large skylights," said Gabriel Andreson, the Energy Source consultant who brought the solution to Leaktite management.
Different from a traditional retrofit, where light output settings are fixed across fixtures regardless of existing conditions, daylight harvesting is a dynamic design that enables the LED fixtures to adjust lumen output depending on the amount of ambient light within a space. In other words, when sun is shining through various skylights throughout the day, the fixtures around those skylights will automatically dim in order to maintain a set light level within the controlled area. Likewise, they will brighten when the natural light is less available.
The result of using this intelligent system is a highly optimized, green design that improves the lighting environment for employees and saves as many energy dollars as possible for the company. Those savings are instantly identifiable with a quick glance at the real time monitoring software which tracks, in fine detail, the demand and load reductions throughout the day.
Leaktite CFO, Russ Brillon was excited when Andreson brought him the project design and analysis, not only because of the savings it manifested, but because of its innovative nature.
"A company tagline of ours is '50 years of innovation', we work hard every day to improve and perfect not only our product line, but our operations as well," Brillon said. "Energy Source shares that same value as evidenced through every phase of this project from concept and analysis, to design and installation. Energy Source pushes the envelope every bit as much as we do."
Leaktite had undergone a traditional lighting retrofit just a few years ago. While that project was paid for and yielding continual savings, Leaktite management was open to hearing about the additional benefits Energy Source could bring through this innovative and technically advanced approach.
The project was undertaken in December of 2013 and took only 3 weeks to complete. This was an aggressive schedule considering the physical challenges of maneuvering around massive injection molding equipment on the plant floor. The project was completed on time and on budget with zero disruption to operations. The switch to LED lighting with daylight harvesting will yield an annual savings of 315,740 kWh. Over the next 10 years, this will save over 3 Million kWh with annual savings of $37,889 added to the company's bottom line annually.