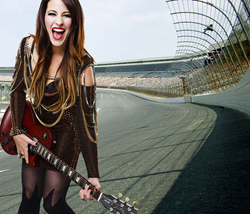 "We're excited to team up with an exceptional talent like Chelsea to help promote our product advantages." – Josh Lupu, marketing director for Webasto Thermo & Comfort North America
Louisville, KY (PRWEB) March 27, 2014
Webasto Thermo & Comfort North America, a world leader in engine-off vehicle heating equipment, announced that country music singer Chelsea Bain will meet fans and perform at 2:00 p.m. in Webasto's booth #18180 on the afternoon of March 27th at the Mid-America Trucking Show in Louisville, Ky.
Webasto has enlisted the singer's help to promote the benefits of its Air Top 2000 ST bunk heaters and Thermo Top C coolant heaters among owner-operators attending the trucking show. Visitors to the booth will also have the chance to enter Webasto's Race To Win Contest for NASCAR Tickets and a VIP Experience with Chelsea Bain.
"Webasto products have long been embraced by owner-operators and fleets from coast to coast," Josh Lupu, marketing director for Webasto Thermo & Comfort North America, said. "Webasto offers drivers superior bunk climate control and engine pre-heating solutions, and we're excited to team up with an exceptional talent like Chelsea to help promote our product advantages."
The company will be promoting the comfort and effectiveness of its Air Top 2000 ST bunk heaters, which consume less fuel and impose a lower amperage demand on the vehicle's electrical system and battery than competing systems. The reduced fuel consumption and lower emission output of the Air Top 2000 ST make it an attractive choice for independent owners interested in striking a better balance between environmental and monetary costs.
Webasto will also show how its SmarTemp Control works with the Air Top 2000 ST bunk heater. The Webasto SmarTemp Control is a compact, easy-to-use temperature management system. With the SmarTemp Control, drivers just dial in the temperature they want and the system delivers and maintains it.
The advantages of Webasto's Thermo Top C coolant heaters will also be highlighted at the booth. Webasto coolant heaters provide optimal temperature at start-up, and independent testing results show that pre-heating engines improves DPF performance and longevity. Pre-heating has also been demonstrated to extend the duration between cleaning cycles and to reduce maintenance costs.
"MATS is the perfect venue to meet and interact with our independent customers and potential customers," Lupu said. "We're looking forward to attracting some attention and to having some fun at our booth, and of course, Chelsea Bain will help provide the entertainment."
Webasto's Race To Win Contest for NASCAR Tickets & VIP Experience with country singer Chelsea Bain is open to legal residents of the United States, ages 21 or older, holding a current, valid Class A Commercial Driver's License issued in any of the 50 United States, District of Columbia, Puerto Rico or the Virgin Islands. There is no purchase necessary to enter to win Webasto's Race To Win Contest, and the contest itself is void where prohibited by law.
The prize includes two tickets to one of the following 2014 NASCAR races: Coca-Cola 600 on May 22-25, NASCAR Sprint Cup on August 29-31, OSRAM Sylvania 300 on September 19-21, Bank of America 500 on October 9-11 or AAA Texas 500 on October 31-November 2. The VIP experience with country singer Chelsea Bain includes a meet and greet with her before or after her concert within the NASCAR race grounds.
All eligible entry forms submitted in-person at MATS, on-line and via U.S. mail received by 5:00 p.m. (EDT) May 14, 2014 will be placed in a drum and thoroughly mixed. The winners of Webasto's Race To Win Contest will be selected at random by a representative of the Promotional Sponsors on May 14, 2014. For questions regarding this contest, please call 1-855-637-8679 or visit http://www.RaceTowinContest.com.
Webasto pioneered the development of fuel-operated air heating technology, introducing the world's first commercially available unit in the 1950s. The company produces more than a million heaters a year and remains a leading innovator of heating, cooling and ventilation systems for passenger cars, heavy-duty on- and off-road vehicles, as well as watercraft.
To access high-resolution images of the Air Top 2000 ST bunk heater, Thermo Top C coolant heater, SmarTemp Control or publicity images of Chelsea Bain, please visit: http://www.smartempcontrol.com/press.
– END –
About Webasto
Webasto Thermo & Comfort North America is a subsidiary of Webasto Thermo & Comfort SE. Webasto Group is based in Stockdorf near Munich and has been a family-owned business ever since the company was founded in 1901. The group has more than 50 international locations, including more than 30 production plants, and is active in the segments of roof and thermo systems. Webasto is one of the top 100 automotive suppliers worldwide. For more information, please visit: http://www.webasto.com.
Corporate Contacts:
Webasto Thermo & Comfort North America, Inc.
Josh Lupu
Ph. 810-593-6060
E-Mail: Josh.Lupu(at)webasto(dot)com
Liz Fraim
Ph. 810-593-6062
E-Mail: Liz.Fraim(at)webasto(dot)com