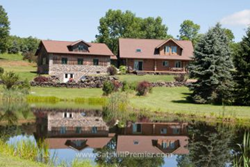 Margaretville, NY (PRWEB) March 27, 2014
When Joanne and Brian McHugh were looking for a vacation home in the Catskill Mountains of Upstate New York, their choice of a log home was a "natural" one. "We love the scenic beauty of the mountains," said Ms. McHugh, "and choosing a log home allowed us to bring the outdoors into our home."
The desires of this Long Island couple comes as no surprise to Catskills real estate broker Eric Wedemeyer. "Log homes remain a popular choice for home buyers," said Wedemeyer whose Coldwell Banker Timberland Properties agency has four offices in the region. "The beauty of the natural wood interior coupled with our spectacular settings is a great combination." Wedemeyer added that log homes also appeal the buyers due to their environmental sensitivity. "It's about being green and comfortable."
According to Wedemeyer, there is no single style of log home. "Log homes can be customized to meet the owner's unique desires, and the styles can vary widely--though they are all beautiful." The company has several log homes currently listed for sale, representing different personal tastes.
One, located near the upstate New York community of Andes, is listed for $999,000. The listing agent, John Tufillaro, describes the home as "very unique home with amazing spaces vaulting nearly 30 feet up from the floor" and features "Brazilian hardwood floors, granite counter tops and stainless steel appliances, three fireplaces, a massive wall of glass windows opens up to the incredible mountain views, and and an 815 square foot teak deck." Located on 29 acres within one of the area's most prestigious and pristine 478 acre developments in the Central Catskills, setting is very private.
For more images and video of this home, click here.
Another and more rustic approach to log home living is a home located in the Catskill Mountain community of Meredith, near Delhi. Recently reduced to $595,000, the home is described by listing agent Alex Exarchos as "this 3400 sq. ft. contemporary home is splendid country living at its best". With 3374 square feet, including five bedrooms and three bathrooms, the home is privately set on more than 25 acres of land.
For more images and video of this Meredith NY home, click here.
Log home buyers often seek a private setting to connect with nature and a Margaretville area home typifies this feel. Located in eastern Delaware County, the four bedroom, three bath log home was recently listed for $399,000. Located in the heart of the Catskill Mountains, the home is described by listing agent Sean O'Shaugnessy as one that "will certainly suit the needs of those looking for privacy, big views, and a desirable location." Inside, the "open living area on the main floor will accommodate friends, family and an adorable country wood stove to get cozy by."
For more images and video of this New Kingston NY home, click here.
"We love our log home," said McHugh. "And, recommend it all the time to our friends. We feel more in tune with our natural environment here."
Coldwell Banker Timberland Properties, with offices in Margaretville, Boiceville, Delhi and Stamford, is the premier real estate agency of the Catskill Mountains in New York State. Buying and selling land and homes in the New York City watershed area is unique and the 30-plus agents of Coldwell Banker Timberland Properties are trained to help buyers and sellers through this process. For more information about Coldwell Banker Timberland Properties and to preview Upstate New York homes and land offerings, go to http://www.timberlandproperties.com or http://www.catskillpremier.com.