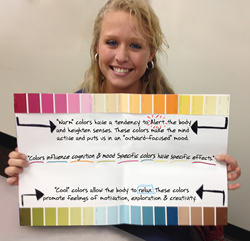 Schaumburg, IL (PRWEB) March 28, 2014
In the white paper entitled "Audiovisual Technologies and Adult Learning in Meetings," produced by BrainStrength Systems and PSAV, readers explore the effects of event technologies on the brain. Neuroscience has revealed ways of optimizing the use of event technology to enhance learning and the entire meeting or event experience.
Janet Sperstad, CMP, Program Director, Meeting and Event Management for Madison College, took what she learned from the white paper and put it to use in her classroom, making it available to her students as a resource guide. In her class, she focuses on teaching how to create effective meetings by designing event experiences that engage participants and delivers a return on investment, which is critical for meeting professionals. Students explore adult learning styles and theories, as well as develop tools and techniques to ensure the meeting's success. This course takes an in-depth look at identifying the stakeholder objectives and learner outcomes, designing effective meetings and events, and measuring ROI.
One of Sperstad's students, Ashley Grossman, recently completed a project for Sperstad's class, where, using Pantone color strips, she demonstrated how the mind interprets what it sees in a color spectrum. "Colors influence cognition and mood, specific colors have specific effects," Grossmann, stated. "Warm colors have a tendency to alert the body and heighten senses. These colors make the mind active and put us in an outward-focused mood. Cool colors allow the body to relax. These colors promote feelings of motivation, exploration and creativity."
"In teaching Meeting Design, PSAV's white paper addresses the approach from a sensory and an 'emotional texture' standpoint," stated Sperstad. "Whether you are meeting to learn something new, have a celebration or communicate a message, your event should have some touch points of emotional texture to make it last. This white paper demonstrates how to create an emotional texture experience outside of the speaker."
After reading the white paper, another one of Sperstad's students, Jennifer Nadolski, summed up what she learned by stating: "You can't just throw together the best technology and expect the best results. Audio and visual needs should align with the goals and objectives of the meeting. Participants are not able to retain information when the senses are overloaded. Learners will learn best when a meeting planner carefully strategizes the balance of sight and sound."
Sperstad went on to say, "With the quality of tools and ease of access that are available today for the meeting industry, the face of the next generation and what they will be equipped with is truly remarkable."
About PSAV®
PSAV provides legendary service and innovative technology to create memorable experiences for planners, producers and customers across the corporate, association and special event markets. Combining local expertise and the broadest array of event technology, PSAV offers more resources in more places than any other audiovisual partner. PSAV employs more than 4,750 full-time, highly trained professionals in 1,300 destination resorts and hotels throughout the U.S., Canada, Mexico, Europe and the Middle East. http://www.psav.com. For a copy of the white paper, please visit: http://www.psav.com/sensationalscience/.