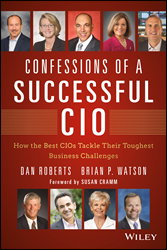 Most books in the category focus on a theory –but we came up with our own approach: find the best CIOs in the United States, arguably, in the world, and tell their stories.
Hoboken, NJ (PRWEB) March 27, 2014
The demands placed upon today's Chief Information Officers (CIOs) are greater than ever before. As IT becomes a more integral part of business operations and strategies, CIOs must be proficient at decision making, which is one of the most crucial aspects of IT leadership. "Confessions of a Successful CIO: How the Best CIOs Tackle Their Toughest Business Challenges" (WILEY; March 2014; Hardcover & e-book; $45; ISBN: 978-1-118-63822-4) by Dan Roberts and Brian P Watson chronicles nine real-world case studies of the biggest challenges ever faced by an all-star lineup of global IT leaders. With each chapter written as a mini suspense novel, readers are able to gain a three-dimensional understanding of each unique IT challenge and learn directly from the failures and triumphs of industry-leading CIOs.
With ever-changing demands from the business, and in an increasingly technology-centric business environment, CIOs must find game-changing innovations and process improvements that make a real impact on the bottom line. Business executives need their CIOs to be real partners—speaking the language of the business and donning their strategist caps—not just commodity managers. Those IT leaders who fail to break out of the order-taker, utility manager mold will, simply put, be looking for a new job.
"Most books in the category focus on a theory – very smart people espousing their ideas about the CIO role, how it will change, and what current and aspiring IT leaders must do to succeed. Those books are valuable, but we came up with our own approach: find the best CIOs in the United States, arguably, in the world, and tell their stories. We are proud to include stories from these experts, which includes Filippo Passerini, Rebecca Rhoades, Steve Bandrowczak, Carol Zierhoffer, Lynden Tennison, Wayne Shurts, Don Imholz, Sheleen Quish and Greg Schwartz," says Roberts.
Current and future CIOs will gain invaluable perspectives from the stories of today's best IT leaders. These acclaimed leaders—each profiled in their own chapter—explain the toughest business decision they had to make, and how the outcome influenced and impacted their leadership style. These in-depth anecdotes take the reader inside some of the most challenging business climates imaginable and chronicle how these elite CIOs made the decisions that mattered.

Learn how the best CIOs anticipate changes to their business and respond—before the business comes knocking
Explore how these top-flight CIOs make critical decisions around strategy and IT to not only benefit their companies, but in some cases, to save them from becoming obsolete.
Provide leaders with a realistic picture of what it takes to leverage technology and transform businesses.
Analyze their perspectives on managing people, crises and balancing the risks and rewards of their "bet the farm" strategies
Watson adds, "Leading with technology is, first and foremost, about leadership. While there is no 'one-size-fits-all' road to success, great leaders, like the ones profiled within this book, are marked by a unique set of qualities: passion and drive to make a positive difference; the ability to engage others to chart the future and define the path; and the paradoxical ability to maintain optimism and perseverance through difficult circumstances."
"Confessions of a Successful CIO" is the new playbook for learning how to take risks, respond to crises, and create more value from IT. Each chapter presents a different challenge, giving present-day and future IT leaders the chance to examine, analyze and learn so that they can be just as successful as the CIOs they're reading about.
About the authors
DAN ROBERTS is a 30-year veteran of the IT industry and the CEO and President of Ouellette & Associates Consulting, Inc. He is a contributing author of several books, including Unleashing the Power of IT (Wiley, 2013) and Leading IT Transformation. Dan is a frequent keynote speaker at CIO and IT industry events and is often quoted in leading industry journals. He graduated from UNH's Whittemore School of Business & Economics.
BRIAN P. WATSON is the former Editor in Chief of CIO Insight and has contributed reporting and analysis to several media outlets focused on IT leadership. Since 2010, he has served as Director of Business Outreach for Workforce Opportunity Services (WOS), a 501c3 nonprofit company. He earned his Bachelor's degree from Bucknell University and a Master's degree from Northwestern University's Medill School of Journalism.