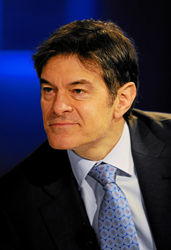 Dr. Oz Joins Dr. Sanjay Gupta in show focused on concerns over addictive painkiller Zohydro.
Washington, DC (PRWEB) March 26, 2014
CNN Medical Correspondent Sanjay Gupta joins Dr. Oz on his nationally syndicated show Wednesday to discuss their concerns about the controversial painkiller Zohydro.
"I applaud Dr. Oz for taking on the issue and bringing Sanjay Gupta into the discussion. The two of them reach a large and influential audience that has the potential to change public policy," says pain management specialist Reza Ghorbani, MD, ABIPP, FIPP. He's founder of TRUCEUTICALS, maker of NOXICARE™, a natural pain reliever
In his pain management practice, Doctor Ghorbani uses prescription painkillers when necessary. However, he believes that natural pain relievers diet, exercise and stress management are also valuable approaches that don't expose patients to the dangerous side effects of opioid drugs like Zohydro.
The FDA's approval of Zohydro, a high potency prescription painkiller, has created an uproar in the treatment community because of what critics say is the powerful drug's potential to trigger addiction. It's Intended only for patients suffering the worst kind of pain.
"The okay of Zohydro for 'pain severe enough to require daily around-the-clock treatment' will comfort some, but may bring harm to others in the form of addiction," says pain management specialist Dr.Ghorbani.
Zohydro is one of a group of hydrocodone-containing drugs which the FDA wants doctors to prescribe more carefully, but those regulations are still pending. According to the Centers for Disease Control, nearly 15,000 people die every year from prescription drug overdoses.
Doctor Ghorbani-- among many other experts in the pain and addiction communities--says Zohydro's approval should be reconsidered.
The drive to market more powerful analgesics like Zohydro sends a strong message that we're not doing enough to treat the estimated 100-million Americans suffering from chronic pain.
"No question that prescription painkillers are a valuable tool when used appropriately. However, they're just a bandage and not a cure. Pain should be managed, not masked," says Dr. Ghorbani.
Doctor Ghorbani discusses more natural solutions to avoid addictive painkillers in his book "Secrets to a Pain Free Life" available on Amazon.com