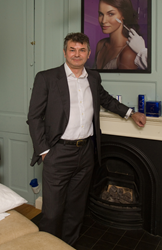 The key is in precision, using a series of very specific injection points to sculpt the facial dynamics in order to create a very effective and youthful 'lifting' effect.
Northampton (PRWEB UK) 27 March 2014
Mulberry House Clinic & Laser Centre based in Northamptonshire has announced that the new 8-Point Liquid Facelift has quickly become one of its most popular procedures.
The 8-Point Liquid Facelift is a revolutionary new approach to achieving a non-surgical facelift which can not only rival the surgical approach but offer a number of distinct advantages as well for the right patient.
The true 8-Point technique is only available with a handful of skilled and highly proficient professionals, such as Dr John Tanqueray at Mulberry House Clinic in Hardingstone, near Northampton. The approach uses very small amounts of dermal filler to replace lost volume in key areas of the face to 'lift' the overall facial dynamics and contours for a more youthful look.
Dr Tanqueray MB BCh MRCGP DCH DRCOG DipOccMed BCAM explains:
"We have had such good results with the 8-Point Liquid Facelift technique that it has rapidly become one of our top treatments."
"Patients have been delighted with the natural looking results that are created using a relatively small amount of dermal filler. The key is in precision, using a series of very specific injection points to sculpt the facial dynamics in order to create a very effective and youthful 'lifting' effect; yet it is not a fixed procedure but one which is customised and adapted according to each and every patient's own unique physiology and requirements."
"The 8-Point approach is very comprehensive, encompassing cheek structure, volume and definition, tear troughs, which can create a tired appearance, nose to mouth contours, downward smile and the jowl area and jawline."
"This is very different to the more common use of dermal fillers, which is to add volume to lines and creases. However, the lifting effect does also smooth out the skin making it appear less lined while subtly reshaping the facial contours."
Patient feedback has been extremely positive. As well as the obvious saving over surgery, the 8-Point Liquid Facelift offers other appealing features. Firstly, there is no risk of an unnatural overstretched result, as no skin is removed (as it would be with a surgical face lift). Secondly, it is a much simpler procedure which can be done in a short clinic appointment, whereas a facelift is serious surgery requiring general anaesthetic (which has inherent risks of its own), a few nights in hospital and weeks of recovery during which dressings or garments must be worn to aid healing. By comparison, the 8-Point Liquid Facelift offers instant results and patients can return straight to work with minimal disruption. It will not replace the facelift for those with more advanced signs of ageing, but is an excellent option for patients before they reach that stage.
Dr Tanqueray goes on to explain:
"This is undoubtedly an advanced technique but is changing the way we think about and use dermal fillers for good."
Little wonder that the procedure has become so popular.
In the UK, this technique is only available with a few of highly skilled practitioners, such as Mulberry House Clinic's Dr John Tanqueray, who is one of the most experienced practitioners in the UK offering the procedure.
Established in 2002, the Northamptonshire based clinic has a significantly longer track record than most in the sector and has built up an impressive reputation with high levels of patient satisfaction.
The clinic provides a staggering range of professional skin treatments, with injectable anti-ageing injections and facial fillers administered by clinic founder and owner, Dr John Tanqueray; who also trains other medical professionals in the best techniques.
In addition, the Company has invested heavily in the latest skin care technology, to ensure that their patients have access to a wide choice of treatments for optimum results. The clinic now offers laser skin rejuvenation as well as LED skin therapy (light emitting diode), radiofrequency, PRP (platelet rich plasma) and plasma energy skin regeneration treatment for advanced skin therapies. Popular laser hair removal is also available.
Mulberry House Clinic & Laser Centre is based in Hardingstone, Northamptonshire; and remains independent and doctor-managed with its patients' best interests placed firmly at the heart of the business.