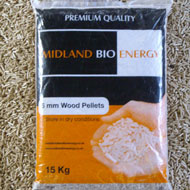 We are small enough to be 'hands-on' which ensures that all deliveries are correct and on time.
Nuneaton, Warwickshire (PRWEB) March 26, 2014
The heating pellets business was founded in 2007 by Managing Director, Mr Andrew Brindley.
Mr. Brindley started the Nuneaton-based wood fuel pellets company after noticing the increasing demand for alternative energy.
"When the price of energy started to increase dramatically, I began to research alternative energy. I first became aware of Biomass in 2007 and spent months reading all I could about this innovative way of producing energy," explained Mr. Brindley.
He continued, "The UK government began to offer financial incentives to householders (and businesses) who swapped to renewable energy and this made the idea of using wood pellet fuels even more appealing."
Originally, as well as being a Biomass fuel retailer Andrew considered manufacturing wood pellet fuels.
Andy researched the machinery required to produce heating pellets and also took note of what the competition charged.
Later, Andy made the decision that competing on price with the larger pellet producing firms wasn't financially viable.
Andrew decided to focus on the retail side and Midland Bio Energy Limited was born.
Andrew's business is based in Nuneaton, in the Midlands and delivers Biomass fuels to many local business customers.
Midland Bio Energy specialise in delivering pellets in bulk and loading them directly in to customers fuel stores.
Smaller deliveries of bagged pellets and pellets used for horse bedding are sold to the domestic market through their website and delivered throughout the UK.
Expansion has seen the Nuneaton based firm move to larger premises just ten miles from their previous base.
Midland Bio has concentrated on forming alliances with ESCo businesses that produce and sell energy to domestic and commercial customers.
According to WIkipedia an ESCo is "An energy service company or energy savings company (acronym: ESCO or ESCo) is a commercial or non-profit business providing a broad range of energy solutions including designs and implementation of energy savings projects, retrofitting, energy conservation, energy infrastructure outsourcing, power generation and energy supply, and risk management."
Midland has recently formed alliances with:
Ecotec who are a renewable energy company based in Worcester with over twenty years experience in environmentally friendly heating and electrical installations.
Mi-Generation who are specialists in Biomass heating systems and operate from Redruth, Cornwall.
BioMaster who are buyers and distributors of wood pellets and wood chip fuel.
Andy was asked "Why have these companies chosen Midland Bio Energy to supply them?"
He answered "We are big enough to cope with the varied deliveries of bagged and bulk pellets we deliver throughout the UK. We deliver as far south as Cornwall and as far north as Scotland. We are small enough to be 'hands-on' which ensures that all deliveries are correct and on time."
Andy added "In some cases our customers sell on the pellets to their customers. Some sell our pellets to businesses who produce heat from the pellets and then sell to consumers."