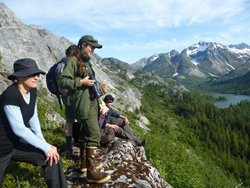 We are excited to offer unique trip experiences within our own country.
Missoula, Montana (PRWEB) April 09, 2014
Adventure Life announces small ship cruises that offer unique experiences without even leaving the country. One of these featured trips is the "Olympic Wilderness & San Juan Islands – Whales, Trails, & Ales" sailing on the Wilderness Adventurer. The May 3, 2014 departure of this cruise is a special itinerary highlighting Northwest beers. Craft beer experts and writers of the Washington Beer Blog, Kendall Jones and Kim Sharpe Jones, will serve as the insightful hosts. Enjoy brewery tours, onboard tastings, food pairings, and the knowledgeable advice of the Northwest's go-to beer experts. Roundtrip from Seattle, this 7-night cruise includes the active options of hiking, kayaking, paddle boarding, and skiff exploration in glacial fjords as well as the San Juan archipelago. There is also ample time for watching gray whales, orcas, seals, sea lions, and other native wildlife.
Another trip that is easily accessible and focused on history is the "Legacy of Discovery Cruise" on the SS Legacy. Cruise stunning Columbia River Gorge National Scenic Area, visit the towering Multnomah Falls, transit eight sets of locks, hear the storied past of the Nez Perce, and step back in time at Fort Walla Walla. Retrace history following the epic journey of Lewis & Clark's Expedition. Learn more about America's past, enjoy natural beauty, and taste regional wines along the way.
"We are excited to offer unique trip experiences within our own country," said general manager Jonathan Brunger. "There are plenty of great destinations to take advantage of that are practically in our own backyard."
The current rates for these cruises range from $1,595 to $3,195 per person with departure dates from April to November. To see the details of these itineraries visit http://www.adventure-life.com/cruises/ships/wilderness-adventurer-216/explore-olympic-wilderness-san-juan-islands-3586/ and http://www.adventure-life.com/cruises/ships/ss-legacy-278/legacy-of-discovery-3482/.
To explore the world, visit http://www.adventure-life.com or call 800-344-6118.
About Adventure Life
Adventure Life is a company of travelers with a passion for sharing the world with others. Our travel experience runs deep, from years volunteering in rural Africa and Central America, to research trips in Asia, studying in Europe, guiding in the Rockies, and just bouncing around every corner of the world. This deep experience is the reason behind our pioneering approach to travel and award winning itineraries. For nearly fifteen years we have been creating personal itineraries that immerse our travelers in the vibrant colors of a place, leaving both our guests and hosts enriched by the experience. From our beginnings as a Latin America specialist, we now offer private journeys, small group tours, and expedition voyages throughout the world. We pride ourselves on our intimate knowledge of our destinations and our dedication to sharing the world.