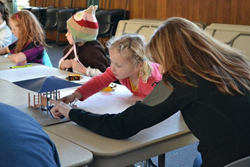 It's definitely the most important project...
Forest Grove, OR (PRWEB) March 27, 2014
In October of last year, children Anna Dieter-Eckerdt and Abigail Robinson were fatally struck by a hit-and-run vehicle, while playing in a pile of leaves. Since the tragic accident, Anna's mother and Abigail's stepmother, Susan Dieter-Robinson, has worked tirelessly to create a memorial playground in honor of her two children. Enlisting the efforts of Recreation Brands Group sales representative, Martha Gaty, as well as Recreation Director, Tom Gamble, the trio set forth to make this dream playground a reality.
Dieter-Robinson formed a "kids committee", comprised of 11 students who all have some relation to the two girls. On March 3, the children were charged with drawing their ultimate playground. Gaty attended the event to learn more about the dream playground the children envisioned.
"When I met Susan and learned about her dream for the project, I felt like this is why I'm doing this job," Gaty said. "It's definitely the most important project that I've worked on in my career."
A portion of the funds raised through the Dieter-Robinson Memorial Fund will go towards the expansion of the playground where the girls used to play. With upgrades costing over $30,000, Recreation Brands Group, representing Play & Park Structures, has been enlisted to aid in the playground design efforts for Forest Grove Parks and Recreation in Forest Grove, Oregon.
Play & Park Structures has offered a grant to the City of Forest Grove to offset some of the substantial costs.
In the upcoming weeks, the "kids committee" will convene again to solidify plans for the playground update, with plans such as ADA accessibility and resurfacing being up for discussion.
Recreation Brands Group is honored to be a part of memorializing the life of the two young girls and making a difference in the Forest Grove community.
About Play & Park Structures
Since 1976, Play & Park Structures has provided high quality playground products that inspire children's imaginations and creativity through innovation and superior product design. Their colorful and innovative products are designed to engage a child's creativity and keep their attention while interacting with their peers in creative yet challenging environments. http://www.playandpark.com
About PlayCore, Inc.
PlayCore helps build stronger communities around the world by advancing play through research, programs, and partnerships. We infuse this learning into our complete family of brands. We combine best in class planning and education programs with the most comprehensive array of recreation products available to create solutions that match the unique needs of each community we serve. http://www.playcore.com