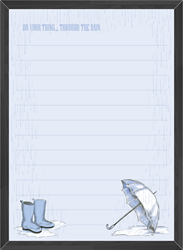 Arvada, Colorado (PRWEB) March 27, 2014
Tailor Made Whiteboards, producer of personalized and custom whiteboards for the home, recently released two new spring whiteboard designs. The two new designs are: "Spring Flowers," which features either Radiant Orchid Tulips (Pantone's Color of the Year) or Yellow Daffodils; and "Spring Rain," which features a rain boot and umbrella design. Both new designs were created by Tailor Made's in-house artist, Patti Stone, and they are currently available for purchase on the Tailor Made Whiteboards website.
The new spring designs are available in the company's whiteboard Calendars, Menu Planners, Chore Boards and multi-use Free Form board product categories. Graphic Panel Inserts featuring the new designs are also currently available for purchase, so customers that own Tailor Made's Quick Change Frame whiteboards can update their dry erase board's look or function with the new inserts.
"Tailor Made Whiteboards' new spring designs really capture the mood and spirit of springtime," says Becky Roche, Marketing Manager for Tailor Made Whiteboards. "We're pleased to offer our customers new boards and inserts each season so they have a variety of current, unique designs to choose from when purchasing their whiteboard or their whiteboard Graphic Panel Insert."
Tailor Made Whiteboards currently has over 80 designs of whiteboard Calendars, Chore Boards, Kid's Thoughts!® Whiteboards and Dry Erase Menu Boards available on the website, including the new spring designs.
Tailor Made Whiteboards makes high-quality, personalized dry erase boards to organize the activities of hectic households. The company's whiteboard Calendars, Chore Boards, and Menu Planners can be personalized to match any home's unique décor, and can be easily changed and updated for many years of use without ever buying a new one. All the company's products are built in the USA and guaranteed to wipe clean and remain stain-free over many years of use. For more information call 1-888-280-9494 or visit http://www.tailormadewhiteboards.com.