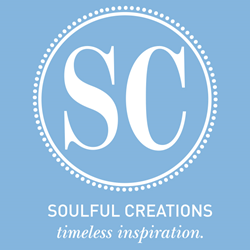 Soulful Creations is among the most personal of gifts.
McKinney, TX (PRWEB) March 27, 2014
For the most important occasions, finding the perfect personalized gifts for family, friends, or loved ones has always been a tough task. The difficulty lies in coming up with a gift that has real meaning and will be appreciated and cherished forever. Whether it's a birthday, wedding or any other special occasion, personalized gifts are the best way to always remind someone how much they are cared for and put a smile on their face. They reflect on the extra care & love that is shown with such a thoughtful gift.
It is with this aim of helping people express their love & care through personalized gifts for their family & friends that SoulfulCreations.com was launched. The website, launched on the 7th of March 2014, offers an easy-to-use service where people can simply choose an image for the occasion, add a personal or provided message or prayer, select a frame and it's done. Gifts are readily made to the creator's specifications, will be shipped within 4-5 business days, and will be delivered promptly to the address specified. No one ever has to worry about providing their own art, design or decoration to create these wonderful memorable gifts. The website also allows uploading of personal images as the base for customization with prayers or messages.
Soulful Creations donates 50% of all profits to help women and children survivors of domestic violence thorough their inaugural "Gift for Gifts" campaign. They have a beautiful collection of customizable images for every occasion that may be celebrated in life. From Mother's Day special letters to wedding gifts, anyone can personalize gifts with favorite quotes, verses, or other wordings to make them special. With half of the profit from all purchases being provided to charity, giving for a cause has never been simultaneously so simple & meaningful.
It's easy…oh so easy! The website enables anyone to put art and words together easily. No special software is needed to create wonderful, well-appointed and high quality gifts. Artistic talent is not required to create a spectacular gift of art. All are invited to come in and experiment with the easy-to-use design tools, and users may be surprised to see what they are capable of designing. Quality is important for each gift to be timeless, so the available custom frames are high quality, and 100% of every Soulful Creation is made in America. In less than 15 minutes, anyone can create an amazing, highly personalized gift.
As part of their launch, the company has also integrated some exciting offers. A creator can receive a flat 15% off by using the limited-time special promo code SF1. Everyone can also benefit from 20% off on products by referring a friend or a family member to the website. By spreading the word, everyone involved is also becoming a part of the SC movement helping in the betterment of the lives of many. Each purchase made at Soulful Creations is helping in the recovery of children & women in need of your support.
About SoulfulCreations.com
Soulful Creations is committed to shaping lives and bringing the gifts of love and inspiration into homes and sacred spaces all over the world. The website helps people design & personalize gifts and share them with those who are near and dear, and half of the profits are provided to help women & children suffering from domestic violence through the "Gift for Gifts" campaign.