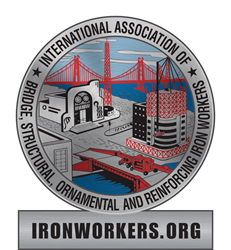 "The Iron Workers are committed to providing the necessary resources that enable our members to be the safest, best trained and most skilled workforce in the construction industry. -- Walter Wise, General President
Washington, D.C. (PRWEB) March 27, 2014
The International Association of Bridge, Structural, Ornamental and Reinforcing Iron Workers have received from the U.S. Department of Labor, Office of Occupational Safety and Health Administration (OSHA), official letters of interpretation recognizing Iron Worker Joint Apprenticeship Training Committees (JATCs) as qualified third-party evaluators for the purpose of providing qualified rigger and signal person training and evaluation.
Walter Wise, General President of the Iron Workers, said the response demonstrates that OSHA "recognizes the Iron Workers Apprenticeship and Training System as an independent entity that provides qualified rigger and signal person training throughout the country."
In practice, the decision by OSHA allows contractors, employing ironworkers, to avoid the expense of acquiring redundant and unnecessary third party certifications. It also helps to decrease the need for duplicate training and passes along the value to the end users.
The JATCs are a key component of Iron Worker's labor-management collaborative initiatives: They provide funding, resources and up-to-date worker training to ensure that high standards of safety and productivity are consistently met.
The decision falls under OSHA's rule 29 CFR 1926 Subpart CC – Cranes and Derricks in Construction Standard. As with any third party training or evaluation, OSHA requires the employer to ensure that the employee is actually qualified to do the work; in this case rig and signal with respect to the specific lift being performed.
Mr. Wise called the OSHA response, "an important clarification."
"The Iron Workers are committed to providing the necessary resources that enable our members to be the safest, best trained and most skilled workforce in the construction industry," Wise said.
The official Letters from OSHA are available here.
For more information, please contact Steve Rank, Executive Director of Safety and Health at the International Association of Iron Workers: srank(at)iwintl(dot)org or by phone 916-259-1016.