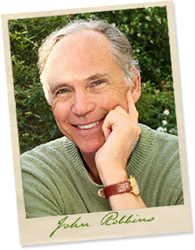 City of Industry, CA (PRWEB) March 27, 2014
Bliss & Wisdom is honored to host John Robbins on April 5th 2014 as he shares his story of following a different life than his father had set out for him. John Robbins is most commonly recognized as the son of the founder of Baskin-Robbins ice cream. John was groomed to follow in his father's footsteps to run the ice cream business, but chose to walk away as he was drawn to a dream of his own. Robbins was after the real "American Dream", a dream where society is at peace with its conscience and practicing a wise and compassionate stewardship of a balanced ecosystem. John has dedicated his life to actively live and promote a "Green America". His speech will cover topics including healthy food choices, preservation of the environment and a more compassionate world.
Considered by many to be one of the most eloquent and powerful spokespersons in the world for a sustainable future, John has been a featured keynote speaker at major conferences sponsored by the Humane Society of the United States, the United Nations Environmental Program and UNICEF just to name a few. Robbins serves on the boards of many non-profit groups which educates, inspires and empowers young leaders to take positive action for all life on earth. Robbins founded EarthSave, an international, non-profit organization that works to promote healthy, environmentally sound food choices and raise awareness of the ecological destruction and cruelty linked to the production of food animals. He has written several books with topics covering a healthier and more sustainable world that have been translated in over 25 languages and received dozens of awards honoring his life and work.
Bliss & Wisdom Foundation is honored to host one of the most influential speakers of our time to benefit and teach how we can all positively pave the way for a better future. The event takes place on Saturday April 5th 2014 at the Bliss & Wisdom center at 3209 Producer Way, Pomona, CA. There is a minimal fee of $20 per person; more info on the event and ticket information can be found here.
About Bliss & Wisdom
Bliss and Wisdom Foundation is a non-profit organization that inspires hope, kindness, and awareness to the community in leading to greater health, greater minds, and greater environment.