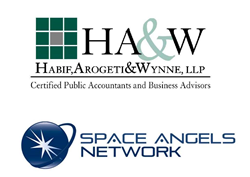 Atlanta, Georgia (PRWEB) March 27, 2014
Habif, Arogeti & Wynne, LLP (HA&W), the largest Georgia-headquartered tax, accounting and business consulting firm, announced that it has joined Space Angels Network, the leading source of capital for aerospace and aviation startups.
Space Angels Network connects investors and entrepreneurs to encourage private investment in commercial space, aerospace and aviation startups. Through its global network, Space Angels Network has invested in more aerospace and aviation startups than any other angel group and is the only global network that brings these two critical communities together. With its members behind many of the top startups in the commercial space industry, Space Angels Network is fuel for the new space race.
The state of Georgia is an important player in the aerospace industry, ranking fifth in the U.S. for aerospace employment in 2011. According to an economic impact study published by the Georgia Department of Economic Development, the aerospace industry generated an economic output of over $50 billion in 2011. Nearly five percent of jobs in Georgia stem from the sector, and more than 500 aerospace companies operate in Georgia.
Aerospace companies looking to expand their product offerings above the clouds can first make sure that their feet are on solid ground by partnering with HA&W. HA&W's accounting, tax and consulting experience with startup companies can help launch new businesses, provide new investment opportunities and create new jobs. Just recently, HA&W worked with an early stage space company to resolve outstanding tax liabilities, allowing the client to win NASA contracts.
"We are excited to welcome the support of HA&W to Space Angels Network. The commercial space and aerospace markets are experiencing significant growth, driven primarily by entrepreneurs and new business models. HA&W's experience with both startups and aerospace companies will greatly benefit our applicant and investment companies as they work to meet the challenges of this growth within their own businesses," said Chad Anderson, Managing Director of Space Angels Network.
"HA&W is known for helping emerging technology companies grow profitably, and it is the only Georgia-headquartered CPA firm with hands-on real world experience advising owners, investors and CEOs of global aerospace companies. We see the aerospace industry as a major driver of economic and job growth," said Michael Blake, Director of Valuation Services at HA&W. "Few people realize that Georgia is already a major participant in the aerospace industry with several successful early stage companies and a proposed spaceport in Camden County."
Are you a space technology entrepreneur or investor? To find out how you can leverage the resources of HA&W and Space Angels Network, contact Michael Blake at michael.blake(at)hawcpa(dot)com or visit http://www.spaceangelsnetwork.com.
About Habif, Arogeti & Wynne, LLP:
Today, the pace at which work gets done is faster than ever before, and when companies manage that pace by surrounding themselves with the right people, sustainable success happens. That's why recognizable industry-leading companies continue to select Habif, Arogeti & Wynne, LLP as their accounting, audit, tax, and consulting firm of choice. Companies looking to increase profitability, streamline processes that improve financial reporting and reduce the time associated with audits, tax planning and compliance choose HA&W. Quicker answers, avoiding unforeseen pitfalls, becoming a better business for the long-run; these are just a few of the benefits clients routinely experience when working with HA&W. Starting up, growing or getting ready to transition? Operating locally, nationally or globally? HA&W gets you where you want to be. Be Successful.
Reach out to HA&W at http://www.hawcpa.com.