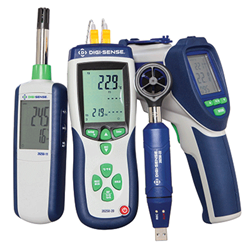 Vernon Hills, IL (PRWEB) March 26, 2014
A new selection of test and measurement equipment is designed to maximize the technician's productivity. Digi-Sense™ precision instruments from Davis Instruments include temperature, humidity, airflow, and light meters as well as manometers in an expanding line of products. The accurate and reliable new measuring tools are rugged enough for rigorous use and arrive precalibrated for time and cost efficiencies.
A sample of the performance monitoring and environmental testing meters include the Digi-Sense™ Thermohygrometer with TSH/TEET, T/C Input for use in the HVAC, IAQ, and environmental industries. This digital meter measures and displays temperature and humidity simultaneously, offering reliable measurements guaranteed. The Digi-Sense™ Pressure and Airflow Meter assists users in easily determining the performance of heating and cooling systems by measuring differential and static pressure and calculating air velocity and flow in ductwork. This exceptional tool for buildings and schools is precalibrated to NIST-traceable standards. The Digi-Sense™ Data Logging Light Meter ensures lighting meets code and takes lighting intensity measurements in lux or footcandles for both indoor and outdoor environments. Technicians can boost system efficiency with this precision tool.
To view all Digi-Sense test and measurement equipment, go to Davis.com/20882 or call 800-358-5525.
Davis Instruments has been one of the world's leading sources of test, measurement, control, and calibration instruments since 1912. With expanding capabilities in industrial spheres such as power and utilities, petrochemicals, aerospace and electronics production, field services, and construction, the organization continues to respond to technological demands. Based in Vernon Hills, Illinois, Davis Instruments is dedicated to providing customers with excellent service and product applications expertise. For more information, contact Davis Instruments, 625 East Bunker Court, Vernon Hills, IL 60061. In the U.S.A. or Canada, call 800-358-5525. International customers, call 847-327-2000. Visit us at Davis.com