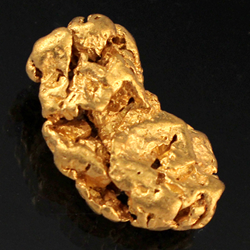 We struck it rich and want to pass the treasure on to viewers of AANTV
Saint Petersburg, FL (PRWEB) April 17, 2014
While standing standing at the foothills of the great Alaskan Gold Claims, many a gold fever stricken prospector has exclaimed, "There's gold in them there hills!".
Very few ever came home with that gold.
For hundreds of years people have risked their lives for their shot at striking it rich. Some of them never found nuggets, the likes of which are going to be seen on TV, April 25th.
In this case, these gold prospectors struck it rich and they're passing their treasure on to viewers of this auction television show.
America's Auction Network is is hosting the Gold Nugget Auction on April 25th, 4pm EST.
The lucky gold prospectors, who have chosen to remain anonymous, through AANTV are going to be selling some of the most attractive gold nuggets a prospector could ever wish to find.
To put this in perspective let's consider the size of these nuggets when compared to an average, yet rare, gold discovery.
Most commonly, when panning for gold, prospectors find very fine grains of gold dust. It might take tens of thousands of these tiny specks to make up one ounce (28 grams) of gold.
The next size up from dust, is a picker or flake. This is a piece of gold that you could barely pick up with your fingers, like a small pebble.
The next size up and the most rare form of gold, is the gold nugget. This is a piece of gold that is like holding a rock. There is no official weight or size that corresponds to the nugget but commonly a nugget can weigh between 1-10 grams with extremely rare cases of up to 1 ounce (28 grams).
AANTV has not announced the size of these particular gold nuggets, but a quick overview of their previous gold nugget auction shows that they have presented nuggets as heavy as 96 grams.
Some of the largest nuggets ever seen have been known to make their way on the AANTV.com Auction show.