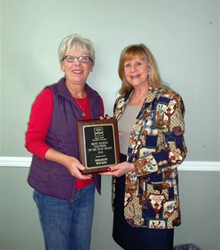 Vienna, GA (PRWEB) March 27, 2014
Easter Seals Board Member and Dooly County Board President, Sharon Wilkin, received the 2013 Volunteer of the Year Award for Easter Seals Southern Georgia. Wilkin has championed numerous projects and fundraisers for the local programs. She has also engaged the Georgia Federation of Women's Clubs in support of Easter Seals programs and projects. Sharon has advocated on behalf of local individuals served by Easter Seals for almost a decade. Presenting the award is Beth English, Executive Director of Easter Seals Southern Georgia.
Easter Seals Southern Georgia is a non-profit organization that has been providing community support services to individuals with disabilities in the 54 counties in Southern Georgia. For more information about Easter Seals Southern Georgia, go to http://southerngeorgia.easterseals.com or call 229-439-7061.