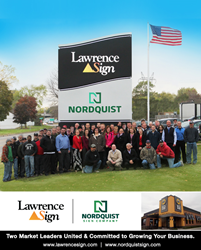 St. Paul, MN (PRWEB) March 28, 2014
The new year marks the two-year anniversary of the integration of Lawrence Sign and Nordquist Sign. The Companies celebrate significant revenue growth and job creation as the result of strong synergies.
Robb Walker, President and CEO of Lawrence Sign and Nordquist Sign, said, "When we united the two companies, we did so because of the power of the combination. Both Lawrence and Nordquist are pillars in the signage industry. They each have a rich history that dates back to the early twentieth century. And both Lawrence and Nordquist have always attracted industry-leading talent. We knew bringing these companies together would have resoundingly positive results. Our collaborative performance has affirmed that belief."
Each Company's extensive expertise has allowed the united Company to expand. Lawrence Sign and Nordquist Sign both brought solid reputations for niche expertise in the signage industry and are leaders in implementing cutting edge technology in all phases of sign fabrication and installation.
Kirk McDougall, the Company's new Senior Estimator, said, "Coming to work for a powerhouse, two quality companies that had the wherewithal to join forces, was an incredibly thrilling opportunity for me."
Walker said, "The past two years have been an exciting time of progress—not only for us, but for our clients as well."
Walker continued, "We have had the privilege of being able to work with leading brands, national, multi-site corporations as well as smaller companies to increase their presence, help their businesses grow and achieve their brand objectives."
He added, "It is a pleasure to work on the full range of a signage project. We start with design conception and then translate the designs into fabrication and carry the project through to installation. We do this for interior and exterior signage, architectural elements, way-finding signage, and environmental graphics. It is a wonderful service that we are proud to provide to a wide base of industries."
"The past two years have only validated what we already knew: powerful, professional signage can transform our clients' brands," said Walker. "If your company is expanding and growing contact Lawrence Sign and Nordquist Sign today. We represent a proven dual force of two market leaders united and committed to growing your business."
About Lawrence Sign & Nordquist Sign
Lawrence Sign, founded in 1929, designs, fabricates and installs signs for almost every industry servicing local, national and international clientele. Lawrence Sign utilizes advanced technologies and expansive facilities to provide direct in-house control of the entire sign fabrication process. The Company excels at serving companies with a multi-site national and international presence.
Nordquist Sign has been fabricating and installing interior and exterior signage, architectural elements and way-finding signage for over 100 years. Nordquist's customer base and scope of work includes custom signage and environmental graphics for hospitals, sports facilities, themed entertainment, corporate/financial and mass transit industries. Nordquist Sign also maintains a gaming division with offices in Las Vegas, NV and St. Paul, MN to serve casino gaming markets throughout the United States.
In early 2012, Lawrence Sign combined with Nordquist Sign to unite the unique resources and capabilities of the two companies. Together, Lawrence Sign and Nordquist Sign offer their clients over 175 years of experience in sign manufacturing and installation for all facets of the signage industry.