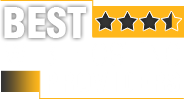 (PRWEB) March 26, 2014
BestWebHostingProviders.co, the premier online source of web hosting provider reviews, is pleased to announce its 2014 review of Web Hosting Hub.
Web Hosting Hub is a well-known web host that provides affordable and reliable web hosting services. Run by its parent company, InMotion, Web Hosting Hub is geared towards providing affordable, all-in-one web hosting services to its customers. Solid performance & reliability has made Web Hosting Hub a practical & economical choice for entrepreneurs & do-it-yourselfers.
About BestWebHostingProviders
BestWebHostingProviders is a professional review website and provides independent reviews on web hosting companies. We review web hosting providers on a number of variables, and provide ratings for real users.