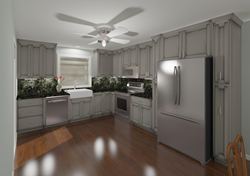 Hatchett's 3D models are so true to life that they almost look like photographs.
Newport News, VA (PRWEB) April 01, 2014
Hatchett Design Remodel recently incorporated 3D model imaging, using Raytrace software, which provides a visual for clients during the design process. As a trending color in 2014, gray is a top choice for Hatchett Designer Jessica Altman, who is one of this year's National Kitchen and Bath Association's 30 Under 30.
Jessica feels that the popularity of gray is growing because it is versatile and neutral yet stylistic enough to add dimension to a kitchen design. In choosing the right shade of gray for kitchen cabinets, Jessica recommends that homeowners consider the size of the space, amount of natural light, the hue of accent colors and the overall design style of their kitchen. Previously, clients had to use their imagination when it came to kitchen design, but the company is now using software that provides that vision for the client.
Hatchett Design Remodel recently completed a kitchen renovation for their client, the Browns. The Browns knew they wanted gray but needed help deciding which shade of gray would look best on their kitchen cabinets. To facilitate the selection process, Jessica developed 3D renditions of the Browns' remodeled kitchen using Hatchett's Raytrace software. In each rendition, Jessica varied the gray from light to dark to show the effect the shade of gray has on the space as a whole.
"Hatchett's 3D models are so true to life that they almost look like photographs," says Meghan Hatchett, Design Consultant at Hatchett Design Remodel. The 3D models Jessica provided gave the client the ability to view the future kitchen and make the decision to incorporate a light gray color into their design.
About Hatchett Design Remodel
Hatchett Design Remodel was founded in 1960 with a vision to provide exceptional construction services to Southeastern Virginia. Originally a siding and roofing company, Hatchett has evolved into a full service Design-Build Firm providing Kitchen Remodeling, Bath Remodeling, Additions and Sunrooms services from the design process through construction for homeowners in the Hampton Roads area.