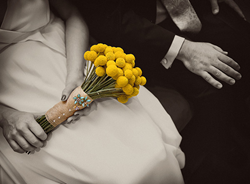 With some prior planning and knowledge of wedding flowers that are known to last longer, bloom easily and tolerate warmer temperatures, brides can rest easier knowing their flowers will survive long after the last dance.
Boise, ID (PRWEB) April 01, 2014
Planning a wedding can be stressful but selecting and doing your own wedding flowers does not have to be. With some prior planning and knowledge of wedding flowers that are known to last longer, bloom easily and tolerate warmer temperatures, brides can rest easier knowing their flowers will survive long after the last dance. The team at FiftyFlowers has compiled a list of the hardiest wedding flowers available, perfect for any bride with overactive nerves surrounding their upcoming wedding day.
Here we define hardy wedding flowers as those that have a few key characteristics: (1) long vase life – fresh cut flowers can live two days or two-plus weeks, we will focus on those with at least a six to seven day vase life; (2) semi-heat tolerant – many fresh cut flowers will wilt instantly when exposed to heat, here we explore options that tend to hold up best in the heat (but keep in mind no cut flower will thrive in the heat for long); (3) easy to care for – some flowers are shipped in a tight bud form and require special care or handling to bloom properly, the flowers featured below are easy bloomers or shipped in a ready to use form; and (4) easy to work with – some flowers require straws, wiring or special care to keep the bloom standing upright, we have decided to omit those from this list as well so that the flowers are both hardy and easy to arrange.
The following list reviews the top ten hardiest wedding flowers as selected by the team at FiftyFlowers:
(1) Chrysanthemums – Better known as Mums and Spider Mums these large blooms are ideal as a focal or an accent flower. They make wonderfully romantic bouquets and arrangements and are available in a wide variety of colors. Their large bloom size fills space quickly and easily.
(2) Daisies and Poms - Daisies and Poms are a spray flower, meaning that they have more than one bloom on a stem; this makes them an ideal filler flower for bouquets and centerpieces. They are very easy to work with and the spray of flowers easily fills in gaps in bouquets or wedding centerpieces.
(3) Carnations - Offered in both a standard size with a single puffy bloom per stem and mini varieties with a spray of blooms on each stem, Carnations make an excellent focal or filler flower. Designers at FiftyFlowers have been known to cluster Carnations together to create what looks like a hydrangea but has the long vase life of a Carnation.
(4 thru 7) Tropical Flowers – In general, tropical flowers tend to be hardy flowers as they are grown in warmer climates and thus better suited to warmer temperatures. Tropical flowers that meet the hardy flower criteria include: (4) Anthurium, (5) Cymbidium Orchids, (6) Protea and (7) Birds of Paradise. Tropical flowers are a top suggestion for summer brides planning outdoor weddings. The wide variety of shapes, sizes and colors can be used for everything from a tropical seaside wedding to a romantic garden affair.
(8) Peruvian Lilies - Also known as Alstroemeria flowers, these lilies feature three to five gorgeous blooms on each stem making them a wonderful filler flower. Although delicate looking, they are long-lived and available in a wide selection of colors, many with fun stripping or freckled appearances.
(9) Succulents - Succulents are a unique, incredibly versatile and easy to care for focal option. Perhaps not a flower in the true sense of the word, but they are definitely a popular and on-trend bouquet option. Succulents offer an extremely long vase life, need very little water and are shipped fully bloomed and ready to be used.
(10) Craspedia - Also known as Billy Balls, these globe shaped blooms rest on top of a thin, yet sturdy stem. Perfect for adding shape, texture and visual interest to bouquets. They are shipped in a ready to use form that lasts for days. Billy Balls also work well in boutonnieres, corsages and add a very fun geometrical pop of color to wedding bouquets.
For more information on FiftyFlowers.com wholesale wedding flowers visit the website or browse their Pinterest page or Blog for ideas on how to put these trends to work for your wedding. FiftyFlowers.com carries over 3,000 flower options, shipped directly from their farms to your door. They specialize in wholesale flowers for the do-it-yourself bride or event planner and pride themselves in having excellent customer service available via phone, email or live chat coupled with a 100% wedding day guarantee, which guarantees the quality of their flowers to every customer. They also provide their customers with extensive DIY information in the form of videos, a continuously updated blog, free phone consults with floral designers, and social media.