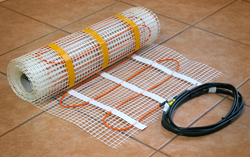 Building heat loads can be reduced 25-35% with InfraFloor radiant heat compared to central heating.
Highland Park, lL (PRWEB) April 02, 2014
An early example of environmental responsibility, the ancient Romans established underfloor heating in hypocausts engineered to conserve fuel while improving the hygiene and living conditions of its citizens. Fast forward 2,000 years and the science of underfloor heating culminated in environmentally friendly, personally healthy, energy efficient, InfraFloor electric floor warming from FloorHeat Systems, Inc.
Like hypocausts, InfraFloor underfloor heat is designed to conserve energy while creating a healthy, more comfortable environment for building occupants. Building heat loads can be reduced 25-35% with InfraFloor radiant heat compared to central heating. What's more, InfraFloor eliminates wasting energy up to 35% that is lost in central heating duct work according to the U.S. Department of Energy.
InfraFloor underfloor heat also creates a more comfortable and healthy indoor air environment. InfraFloor relies on infrared energy like the sun to transfer warmth to people and objects. Since central heating blowers are not used, unhealthy drafts, dust, dirt and allergens are no longer redistributed throughout the home or office.
Unlike the hypocausts that were labor-intensive to build and run, InfraFloor electric floor warming systems are easy -to-install and maintenance free. InfraFloor Film™ simply rolls out on an underlayment and is topped with a vapor barrier and floating laminate or wood floor. Once installed and connected to standard electricity, the system is maintenance-free except for the occasional thermostat adjustment.
InfraFloor comes in three variations, InfraFloor Mat and InfraFloor Cable for tile, stone and other cementitious floors, and InfraFloor Film for laminate and wood floors. These systems can be installed on virtually any subfloor, under almost every finished floor and in remodels or new construction.
With the decline of the Roman Empire, the hypocaust fell into disuse. But one thing is perfectly clear regardless of the state of the nation, InfraFloor under floor heating systems are here to stay. Homeowners and professional installers can confidently and conveniently shop the InfraFloor secure and verified website, programmed in the USA and reliably operating 24/7/365. Many buyers choose to call the toll-free "heatline" to speak with knowledgeable and trusted professionals to help them navigate their underfloor heating options. InfraFloor's honest, informative, respectful company sales representatives are prepared to answer floor warming installation questions by phone or email.
FloorHeat Systems, Inc. is a USA supplier of UL compliant, energy saving, affordable, electric radiant underfloor warming systems. It provides free shipping on most orders, fast-response planning expertise, installation and technical support for underfloor warming systems. A 100%/90-day return policy with no restocking fees rounds out FloorHeat System's "customer–first" policy. To learn more, visit: http://www.infrafloor.com.