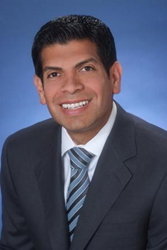 If in that time frame you cannot find a property to purchase, you either have the wrong agent at the helm, or have unrealistic expectations
(PRWEB) March 31, 2014
RE/MAX Commercial is proud to announce that Kristopher German – the go-to, multi-family specialist in Southern California – was among the Top 10 Commercial Real Estate Producers in the entire United States for 2013. Within the state of California, German was named the 6th Top Producing Agent. German and his team specialize in apartment building/multi-family sales and 5-50 units in size, within Los Angeles and San Bernardino Counties.
When looking at the production among German and other Top 10 nationwide agents, it can be seen that sales volume and prices have begun to pick up in the commercial market sector.
German states that overall the market is strengthening given three primary factors:
1. Loan interest rates are holding around 4%, thus increasing an investor's return on investment when borrowing capital for a purchase.
2. Vacancy rates are declining to 1-2% in most cities, thus causing rental rates to finally increase.
3. Foreign investors continue to be hungry for multi-family properties here in the United States.
Although market dynamics are more promising then they have been since the collapse in 2007-2008, a lack of inventory still plagues local markets where German and his team specialize. One can identify several reasons why this is, but German states the majority of investors point to:
1. The high unemployment rate, which still exists, and the uncertainty it brings within the economy.
2. The tax structure of the current administration, which has increased the capital gains tax rate from 15% to 20% for those investors who would prefer to cash out. Not being able to justify the capital gains rate in addition to the surtax on real estate to float the Affordable Care Act which equates to 3.8%, investors would rather hold and see if a changing of the guard may also bring about lower tax consequences.
3. And the most perplexing, many report they would sell and utilize a 1031-Exchange in order to buy up in size or in a more aggressively priced community, but because they fear not being able to identify a desirable asset within the timeframe guidelines of the 1031-Exchange rules, the old adage "one in the hand is more valuable than two in the bush," is more real than ever.
So how have German and his team overcame these distractions?
"We advise our clients of the reality of the market place as opposed to hype. My team and I spent the last six months pouring through market data for those cities we service, and have found that we are at 2005-2006 levels – and rising," German explains. "While we cannot make any promises with regards to unemployment, it's clear there are plenty of factors to be optimistic about in the market place. First, there are plenty of renters to go around, as most investors are once again fielding multiple applications for any given vacancy. With occupancy in place, this leads to higher rents and better stability of investment property."
What does that mean to the investor?
German emphasizes that this gives investors the ability to purchase in a market with less volatility, which allows them to realistically "value add" as they raise rents on an underperforming asset. "With the Federal Government's pledge to hold interest rates low, that offers a great opportunity for an investor to increase their yield on investment," he continues.
Why is that?
"For every 1% that interest rates rise, that can fluctuate an investor's return by 10-15%," said German. "That being said, by simply purchasing now, your cash-on-cash return is more attractive than in previous years – especially more attractive than in the boom of 2007 where people were locking interest rates in at 7%."
Lastly, if cashing out, German explains that when there is little inventory in the market place, one is bound to sell at a very aggressive price, provided their agent mass markets their listing. If performing a 1031 Exchange, he urges investors to remember, "All things are relative. If you sell at an aggressive price, be content with paying an aggressive price for the next purchase. Unfortunately it is a myth to sell high and buy low, especially when trying to time an exchange."
In closing, German had this to say for those looking to sell and exchange into another asset:
"Provided you are working with an agent who they themselves are consistently selling and farming for listings, with their help you are bound to find a product to meet your investment needs. If it takes 30-60 days to find a buyer for your property, then an additional 30-90 days to close escrow, you will have a total of nearly 200 days (when you also add in the 45-day identification period within the 1031-Exchange guidelines) during which to 'shop' for your next deal. If in that time frame you cannot find a property to purchase, you either have the wrong agent at the helm, or have unrealistic expectations."
German has a team of five individuals who help in the research and development of multi-family transactions. He has closed six multi-family transactions in just the first quarter of 2014 and expects to have his biggest year yet. Needless to say he is optimistic about the marketplace and the financial futures of his clients.