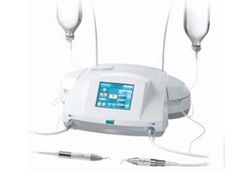 Dr. Penchas says "We have been using this device for all of our bone surgeries since it is a dental machine that gives incredible control and much less trauma to the patient."
(PRWEB) April 09, 2014
Midtown Dentistry recently introduced the Satelec Piezotome, as it utilizes the very latest technology to provide patients with a more comfortable experience prior to having dental implants.
Midtown Dentistry, a premier dental office in Houston, is known for being one of the leaders in dental implantology techniques. Its founder Dr. Jonathan Penchas has been voted Top Houston Dentist many times. As such, it is no surprise to learn this dental office uses the very latest technology to help ensure patients have the most comfortable and positive experience, particularly when bone surgery is needed.
The Satelec Piezotome is designed so patients requiring bone surgery can have this procedure in much more comfort than ever before. This device offers far greater precision in comparison with conventional surgical techniques and is used for pre-implant and periodontal surgery. It can be used for sinus lifts, bone splitting, and osteotomy and osteoplasty surgeries, and offers micrometer precision.
Its use enables Dr. Penchas to obtain an extremely fine cutting line. The high level of precision offered by the Satelec Piezotome minimizes damage to soft tissues, ensuring any discomfort after surgery is minor, and healing times are shorter. This is a huge advantage for patients, and helps make treatment much more agreeable. The degree of control offered by the Satelec Piezotome is quite remarkable, providing great power to cut bone with the lowest possible risk.