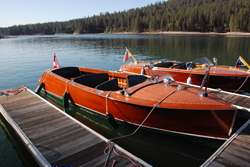 Bass Lake, CA (PRWEB) April 04, 2014
The 24th Annual Antique & Classic Boat Show will be held at Bass Lake on Saturday, May 17, 2014. Sponsored by the Bass Lake Lions Club and Bass Lake Boat Rentals, the show will feature over 50 of the finest preserved and restored watercraft to be found on the West Coast. The show is the annual rendezvous for the Southern and Northern California Chapters of the Antique and Classic Boat Society of America and promises to be one of the largest of the season in California.
The show takes place on the Pines Marina docks in front of Ducey's On The Lake, in the Pines Village, on the North Shore of Bass Lake. Show hours are from 9 a.m. to 4 p.m. Admission fee to view the boats is $5.00 per person (children under 10 free) with proceeds going toward sight preservation and other community projects supported by the Bass Lake Lions, including a camp for sight and hearing impaired children.
Bring your old eyeglasses, cell phones and hearing aids for recycling and get 2 free raffle tickets for the mega drawing.
For more information, please call Jim Milligin at 559-642-3420
Post Office Box 404 Bass Lake, California 93604