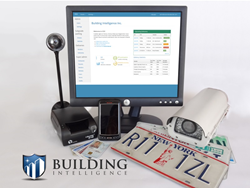 Meeting the requirements of security and improving operations, SV3 will be a must have for facility operators and security directors
New York, NY (PRWEB) March 27, 2014
The New Product Showcase takes place at the ISC West convention in Las Vegas on April 1st, 2014. Building Intelligence will be showcasing its new product SV3. Expanding on access management, SV3 is the next generation in vehicle access management for both entry points and loading docks. As Vehicles, visitors, and vendors pose several critical risks that should not be ignored. SV3 provides the means to mange these risks.
The Building Intelligence team understands that "the greatest risks never use the front door" and that access points in the back of a facility are many times the most vulnerable. The magnitude of risk can be as little as an expired insurance certificate or as horrific as a vehicle-borne improvised explosive device (VB-IED).
Building Intelligence is the leading provider of cloud based services and enterprise solutions designed to address these particular risks. SV3, by Building Intelligence, provides the tools to manage the three "V"s (Vehicle, Visitor, Vendor) to reduce environmental risks associated with unknown vehicles and drivers.
One objective of the application is to maintain high standards of risk mitigation by qualifying vehicles, visitors, and vendors as they enter a secured area. Using our SecureVendor solution, facility manager can enroll vendors to expedite entry and pre-screen vendor staff and vehicles.
SV3 enhances processes and workflows that promote the screening and pre-registration of visitors, vehicles, drivers and vendor companies. This combination of services provide a significant deterrence to terrorism, theft, and abuse by vendors. Everyone is identified. Everyone is accountable.
Along with the operational efficiencies that SV3 generates, SV3 provides real-time reports on access, throughput and usage. The SV3 application helps facilitate the interactions between tenants, facility management, and security personnel.
Upon arrival of the vehicle, SV3 captures the vehicle and driver identity and validates that it is on schedule. SV3 will immediately recognize and associate vehicles and drivers who are enrolled. The system alternatively may be deployed in a "discovery" mode such that it associates new vehicles and drivers as they arrive for the first time, and identifies them accurately on future returns.
Secure Visitor allows authorized personnel to pre-register visitors and track their entry and exit. An email notification is sent to the visitor upon scheduling and to the requestor upon arrival of the visitor. Visitors may also be checked in against one or multiple watch lists, providing actionable intelligence to the guard or concierge on the spot when they arrive. Having an efficient, secure way of managing unknown people coming into the facility makes employees feel safe and visitors feel welcome.
Secure Vendor is a portal hosted by Building Intelligence to collect vendor information as per a client's requirements. The vendor's profile includes information such as vehicles and drivers who will be making deliveries on location for instantaneous recognition by SV3-Vehicle upon their arrival. Certificates of insurance documents are managed electronically in the portal as well, including auto-generated notification of expiration or insufficient levels, resulting in 100% compliance to insurance requirements at all times. This feature replaces what has historically been a very labor intensive process on both the vendor and the facility manager.
At ISCWest all of these products will be showcased to feature the innovative solution that is SV3. According to Building Intelligence's CEO Jeffrey C. Friedman, "this product has the potential to transform vendor and visitor management for every type of facility. Whether it's a commercial building, a campus, or a mall, SV3 provides the ability to turn a cost center into a secure efficient profit center. This is a leap in the evolution of access management and security operations."
About Building Intelligence Inc.
Building Intelligence Inc. is a cloud-based service provider delivering solutions to securely manage the entry of visitors, vehicles and ultimately vendors into a facility. Used by commercial, residential and government, Building Intelligence clientele consists of several high profile multi-use properties. Our security solution set, SV3, provides Secure Vehicle, Visitor and Vendor management tools to streamline operations while enabling comprehensive security protocols, resulting in an ideal combination for Managers of Facility, Security and Real Estate. http://www.buildingintelligence.com.