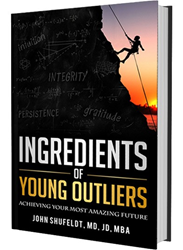 Everyone needs a mentor, whether virtual or otherwise in order to spur each other on to achieve their goals.
Scottsdale, AZ (PRWEB) March 27, 2014
Outliers Publishing announced that the second book in the Outlier Series entitled Ingredients of Young Outliers, is now available for purchase online at http://www.ingredientsofoutliers.com/shop/. According to author Dr. John Shufeldt, Ingredients of Outliers for Young Adults is a life and career guide to help inspire future thought leaders and catalysts for change.
The 172-page book is be available for purchase on the Ingredients of Outliers website in paperback and hardcover formats. Outliers Publishing also has plans for an e-Book format.
Ingredients of Young Outliers is preceded by the first book in the Outlier Series titled, Ingredients of Outliers: A Recipe for personal Achievement, published in July 2013.
According to Dr. Shufeldt, the goal of Ingredients of Young Outliers is to act as a surrogate mentor for students and young professionals who want to achieve more than they previously imagined was possible.
"Everyone needs a mentor, whether virtual or otherwise in order to spur each other on to achieve their goals," said Shufeldt.
Ingredients of Young Outliers is packed with advice and inspirational stories from Shufeldt's personal endeavors as well as those of historical "outliers" and influential acquaintances.
Barbara Duncan Ph.D., Chief Operating Officer at EDUPRIZE Schools in Arizona says, that Ingredients of Young Outliers empowers young people with the tools to create positive possibilities in every aspect of their lives. "I highly recommend this book to all teachers, parents and school districts to use this book as an opportunity to create an 'exhilarated learning' environment which is so critical to student success," says Duncan.
Mary Vallelonga, owner and teacher at Little Friends Montessori School says, "Ingredients of Young Outliers, is filled with cornerstone virtues of courage, hope, humility, respect, integrity, trust and love. It shares the importance of how 'mentors' can make a life changing difference in someone's life. I am certain that everyone who reads these stories will hold their heads up a little higher, their smile will be a little brighter, their tears will be tears of joy and they will believe that they too have what it takes to be an 'outlier'."
After its publication as the second book in the Outlier Series, Ingredients of Young Outliers will be followed by at least 8 other books over the course of 2014. The books are intended for students, college graduates and anyone interested in entering or furthering their career. The goal of the series is to offer books specific to sought after career fields with insider information and recommended channels for pursuing that career from experts in each respective profession.
The career fields featured in the Outlier Series will include but are not limited to: Medicine, Law, Sports, Design / Engineering, The Arts / Entertainment, Entrepreneurism / Business, Service to Country/ Service to Mankind, Writing / Journalism, and Travel / Leisure.
About Author John Shufeldt:
As well as being a practicing doctor and lawyer, Shufeldt is also a pilot (both plane and helicopter) and a business entrepreneur (and if pressed, he will reluctantly admit to being a 'budding' chef and Taekwondo black belt). Shufeldt received his BA from Drake University in 1982 and his MD from the University of Health Sciences/ The Chicago Medical School in 1986. He completed his Emergency Medicine Residency at Christ Hospital and Medical Center in 1989 where he spent his final year as Chief Resident. He received his MBA in 1995, and his Juris Doctorate in 2005, both from Arizona State University. He is admitted to the State Bar in Arizona, the Federal District Court and Supreme Court of the United States. Shufeldt is also an adjunct professor at the Sandra Day O'Connor College of Law where he teaches a clinic on Health Law Entrepreneurism. He serves on the Drake University Board of Trustees and the Sandra Day O'Conner College of Law Alumni Board
Go HERE for updates and to learn more about Ingredients of Young Outliers and The Outliers Series.