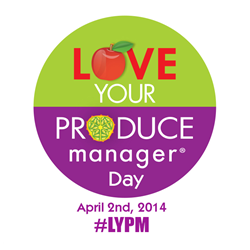 Los Alamitos, Calif. (PRWEB) March 26, 2014
WHAT "National Love Your Produce Manager®" Day. As featured in the Chase's Calendar of Events, this holiday is "honoring the exemplary customer service in U.S. supermarket produce departments." Produce Managers are the unsung heroes of the healthy eating revolution, quietly playing a key role in increasing the consumption of fresh fruits and vegetables by the U.S. consumers.
WHEN Tuesday, April 2, 2014.
WHERE Supermarkets nationwide.
WHY Produce Managers are more important than ever as people are looking to add more fruits and vegetables to their lifestyle. Produce managers can help consumers pick the perfect fruit and order exotic vegetables as seen on TV. Heck, sometimes they'll even share their favorite recipe!
WHO Everyone! Boomers to millennials, parents and kids. Make sure to stop by a local grocery store on Tuesday, April 2nd, to say hello to the Produce Managers, and thank them for helping everyone to eat healthier!
Learn more about "Love Your Produce Manager®" Day: http://www.friedas.com/lypm/. Follow the conversation on #LYPM.