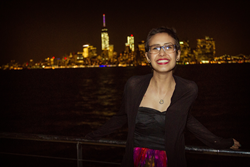 "Just to see "Les Miserables" in person was amazing," recalls Deidre. "I can't stop singing the songs; it was unbelievable. My wish was even more than I could have ever imagined.
Holiday, FL (PRWEB) March 27, 2014
Starting a new school and taking a new routine can make any teen tired, but for Deidre Sechi of Overland Park, Kansas, the constant exhaustion was just the beginning of a harrowing journey. This long and traumatic road lead the passionate teenage to New York City, where her ultimate wish to see "Les Misérables" on Broadway was granted by children's charity Kids Wish Network.
When Deidre started her freshman year in 2012, she thought that being exhausted all the time was normal. Doctors initially diagnosed her with mono, but months went by with no improvement despite treatment. Throughout her first semester, Deidre began noticing a lump in her abdomen that would come and go accompanied by bouts of stomach pain, and when the pain became unbearable, doctors knew someone was terribly wrong. After an ultrasound was ordered and a large mass was detected, Deidre was diagnosed with a desmoplastic small round cell tumor, an aggressive and rare tumor that primarily occurs as masses in the abdomen and carries a poor prognosis.
Maintaining her positive outlook on life, Deidre began chemotherapy, radiation and had her stem cells harvested. Deidre has always found a solace in performing and uses this comfort to help her through the agonizing treatment. So when her chance came to see a live Broadway play, as part of her wish granted by Kids Wish Network, she was more than excited.
Deidre and her family got to experience all the best parts of New York City thanks to Kids Wish Network and its generous sponsors. Besides watching "Les Miserables" on its opening night, they toured the Metropolitan Museum of Art, dined at amazing restaurants like Butter Midtown (owned by Iron Chef Alex Guarnaschelli), and were given a personal harbor cruise from Hornblower Cruises and Events.
Also, in preparation for her big night on Broadway, Deidre had her makeup professionally done and Sak's Fifth Avenue donated an entire outfit, including shoes, totaling over $1,200.
"Just to see "Les Miserables" in person was amazing," recalls Deidre. "I can't stop singing the songs; it was unbelievable. My wish was even more than I could have every imagined. Thank you Kids Wish Network and everyone who helped make my dream come true."
Kids Wish Network and Deidre would like to extend an enormous thank you to everyone who made this wish so amazing: The Roosevelt Hotel, U.S. Limousine Service, Empire CLS, "Les Miserables", Butter Midtown, Morton's The Steakhouse, The Metropolitan Museum of Art, Pershing Square, Sak's Fifth Avenue, Pershing Square, and Andie Sleeman.
Deidre recently completed her last round of chemotherapy but faces a difficult road to remission. She is scheduled frequently for scans to check her status but, as always, remains positive. You can follow her story on her KWN page and leave her messages of encouragement.
Kids Wish Network is a Florida-based charitable organization dedicated to infusing hope, creating happy memories, and improving the quality of life for children having experience life-altering situations. Come experience the Kids Wish Network difference at http://www.kidswishnetwork.org.