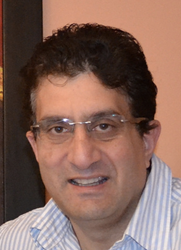 I understand that many people may be concerned about the cost of cosmetic dentistry, but the prices being charged in this country are very reasonable and they are coming down
(PRWEB) March 31, 2014
Dr Tariq Drabu is the leading dentist and owner of the Langley Dental Practice in Middleton, Manchester. He is highly respected as the Clinical Lead Dentist for the Oral Surgery Clinical Assessment and treatment Services for NHS Heywood Middleton and Rochdale. He is known for his commitment and dedication to dentistry in the UK, and for his long standing service to dentistry for over twenty five years.
Dr Tariq Drabu, the well known dentist, was speaking in reference to an article recently published by the Dental Tribune website. The article, which can be read here, reports on the reduction of British dental tourists travelling abroad for cosmetic dental treatments.
Dr Tariq Drabu, the top dentist said, "The article reports that Teeth Wise, a dental search and cost comparison website, has noticed a drop in the number of UK individuals travelling abroad to receive cosmetic dental treatments. This drop in numbers is believed to be due to the increase in availability and reduction in cost of dental implants and a variety of other popular cosmetic dental treatments. In my own experience, I would agree with this assessment. Consultations and bookings for cosmetic treatments have increased steadily in my own practice in recent years. The Langley Dental Practice offers a wide range of cosmetic dental treatments which includes Teeth Whitening, Dental Implants, Veneers, and Facial aesthetics. I have no doubt that the number of patients looking for cosmetic dental treatments will continue to rise in popularity at my practice."
Dr Tariq Drabu, leading dentist went on to say, "I also think the drop in Dental tourists is good news for the British dental profession. Patients have access to the finest dental care in the world, right here in the UK. I understand that many people may be concerned about the cost of cosmetic dentistry, but the prices being charged in this country are very reasonable and they are coming down. I also believe that having the treatments here can often be safer. There have been reports of some patients being disappointed by the results of their treatments received abroad. It is not always easy to check the credentials of dentists in international countries. I myself have treated patients who required restorative work done after unsuccessful treatments abroad. While I acknowledge that there are many millions of excellent, highly qualified dentists all over the world, and in every country of the world, I also fully understand the commercial potential of cosmetic dentistry. And these financial incentives can sometimes result in unscrupulous people taking advantage of honest citizens who are trying to save money on their cosmetic surgery."
Dr Tariq Drabu, dentist in Manchester, closed by saying, "The report suggests that the number of dental tourists has dropped significantly over the last ten years. I anticipate it will drop further. I have no doubt that the majority of UK citizens who want cosmetic dental treatments would prefer to have it done at home, rather than travel thousands of miles. If anyone would like to know more information about the cosmetic treatments we offer at Langley, I suggest they visit our website for more information, and they can contact us to arrange a consultation."
About Dr Tariq Drabu
Dr Tariq Drabu is a highly experienced and well known Manchester dentist and GDC registrant. He is accredited as a Specialist in Oral Surgery by the General Dental Council. Dr Tariq Drabu practices at his Langley Dental Practice in Manchester. Dr Drabu is a leading name in dentistry, with more than 25 years' experience in both general practice and hospital dentistry. Dr Tariq Drabu is also the Clinical Lead Dentist for the Oral Surgery Clinical Assessment and Treatment Services at NHS Heywood, Middleton and Rochdale. He is a specialist staff member at The UCLan Dental Clinic in Preston.