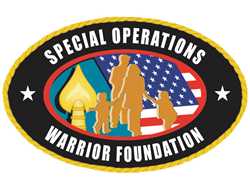 Tampa, FL (PRWEB) March 26, 2014
Dan Horwitz is crossing the street in his late father's footsteps.
By organizing the Special Operations Golf Tournament of South Florida May 18 at Turnberry Isle in Miami, the Plantation, FL, resident is carrying on the work of his dad, Bill, a longtime supporter of the nonprofit Special Operations Warrior Foundation (SOWF).
Based in Tampa, the SOWF provides college funds to the sons and daughters of fallen Army Green Berets and Rangers, Navy SEALs, Air Force commandos and Marine Corps special operations personnel.
Bill's passion to help children sprung from his own bleak childhood. He joined the Army at age 17 during the Korean War to get out of The Home, the Jewish orphanage in Philadelphia where he was raised. Bill went on to become a successful businessman in the South Florida auto industry.
In 2001, prompted by his son David, an Air Force officer who began training for special operations nine years earlier, Bill recruited everyone to support the SOWF through a fundraising adventure race he organized in the community of Highlands, NC, where he settled with his wife, Nancy, in 1997.
Dan, himself an Air Force air traffic controller, spent time with his brother and his elite teammates.
But an adventure race was not enough for Bill and Nancy. He organized a charity golf tourney, while she organized a live auction. When Dan left the Air Force in 2000 and went to work for the Federal Aviation Administration in New York, he joined his parents' efforts for the SOWF.
By the time Bill was diagnosed with cancer, dozens of Highlands-area citizens were raising funds for the SOWF. Yet he kept going. It was understood around town that Bill would follow anyone who tried to avoid him as he hawked raffle tickets for the golf tournament on Main Street.
"Dad was crossing the street two months before he passed away," Dan says.
After Bill Horwitz lost his battle with cancer on Aug. 3, 2010, the family requested donations for the SOWF. Nancy renamed the final Highlands golf tournament, held in 2011, in memory of her husband of 52 years.
ABOUT THE SPECIAL OPERATIONS WARRIOR FOUNDATION | http://www.SPECIALOPS.ORG
Founded in 1980, the SOWF ensures that the surviving children of U.S. Army, Navy, Air Force and Marine Corps special operations troops killed in the line of duty get a post-secondary education. The foundation has earned watchdog group Charity Navigator's four-star rating for eight consecutive years, placing it among the top 1% of the thousands of nonprofits CN monitors.
The SOWF has helped 235 scholarship recipients graduate from college and currently supports 120 students at schools across the country.
ABOUT THE SPECIAL OPERATIONS GOLF TOURNAMENT OF SOUTH FLORIDA | http://www.SPECIALOPSGOLF.ORG
This inaugural event will feature an all-inclusive golf clinic, Special Operations Forces display, lunch, tee gifts, auction, on course beverages and food, and dinner at Turnberry Isle. Tournament sponsors include The Trump Organization, Whole Foods Market, JetBlue, SunTrust Bank, Shorty's BBQ, Mayors Jewelers, and Bacardi.
Media are welcome to attend.