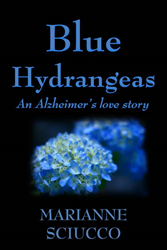 "Elinor Bell's meticulous and moving narration makes the book all the more compelling."
Middletown, NY (PRWEB) March 27, 2014
Registered nurse and author Marianne Sciucco has announced that her award-winning debut novel "Blue Hydrangeas," an Alzheimer's love story, is now available in audiobook through Audible. Readers can download a free copy when signing up for a 30-day trial membership. The audiobook will soon be available on iTunes and Amazon.
"I'm pleased to offer this book to those who prefer to read with their ears instead of their eyes," says Sciucco, who caught the audiobook bug years ago and always has something queued on her iPhone. "As an author, it's important to reach readers on all levels, which is why my book is available in print, digital, and now audio." Readers can find it on Amazon, iTunes, Nook, Kobo, Vook, the Create Space eStore, and other online retailers.
"Blue Hydrangeas" is the sad but beautiful story of a pair of retired Cape Cod innkeepers struggling with the wife's Alzheimer's. The online writers conference IndieReCon recently awarded the novel its first ever "Best Indie Novel Award" in adult fiction. Amazon readers give it 4.8 stars, and Alzheimer's caregivers have written favorable reviews.
"The response from readers who are or have been caregivers is humbling," says Sciucco. "Their willingness to reach out to me and show me how this book has affected their lives is both unexpected and inspiring."
"This book is my story too," writes one reader who cared for a mother who succumbed to the disease and now cares for her mother's widowed husband.
Gerontologist Susan J. Hurt writes: "The sensitive subjects of caregiving and progression of the disease were accurately and expertly woven into the story. Alzheimer's disease not only affects the stricken individual, but the family unit as well. The author does a fabulous and in depth job of depicting the powerful emotions of the characters. I simply could not put this book down."
Another caregiver writes: "While reading Marianne Sciucco's fictional story, I was taken back to the years of caretaking and decision making for my own parents who both died of Alzheimer's disease. Thank you, Marianne, for writing a beautiful love story portraying the honest devastation of the disease, yet reinforcing the desire to preserve the dignity of those afflicted."
The audiobook's producer/narrator Elinor Bell echoes these readers. "Marianne catches so perfectly the quandaries that come with this disease, this stage of life, love, and loss, and the feeling that there are no good choices. She captured the truth of each person – family member, friend, professional – caught in the wide-flung web of Alzheimer's. And yet I finished reading the book with such a sweet feeling of hope." Bell has first-hand knowledge of dementia as her mother suffered with it.
More than twenty producers/narrators auditioned for the project. "I chose Elinor because of her professional approach to the audition and because I liked her voice," Sciucco says. "I was looking for a mature reader without any regional accent, and someone who appreciated Jack and Sara's story. Elinor loves the book, which is very important to me. Her meticulous and moving narration makes the book all the more compelling."
Bell has extensive experience on stage, in film, and in commercials, voiceover, and audiobook narration. Her most recent credits include production and narration of the audiobooks "After the Snow Falls," by Carey Jane Clark (2013), and "Both Sides Now," by Shawn Inmon and Dawn Inmon (2013), and film roles in "Mother Country," (2011), "Redwoods," (2009), and "Cassandra's Echo," (2006).
ACX is a marketplace where professional authors, agents, publishers, and other rights holders can connect with professional narrators, engineers, recording studios, and other producers capable of producing a finished audiobook, as well as with audiobook publishers.
About the Author
Marianne Sciucco is not a nurse who writes but a writer who happens to be a nurse. A lover of words and books, she studied the craft of writing as an English major at the University of Massachusetts at Boston and briefly worked as a newspaper reporter in New England. To avoid poverty, she became a nurse. In 2002, she began writing about the intricate lives of people struggling with health and family issues. She published her debut novel, "Blue Hydrangeas," an Alzheimer's love story, in 2013 to glowing reviews. It soon became a Kindle bestseller and recently won IndieReCon's Best Indie Novel Award. She lives in upstate New York, and, when not writing, works as a campus nurse at a community college.